01/28/07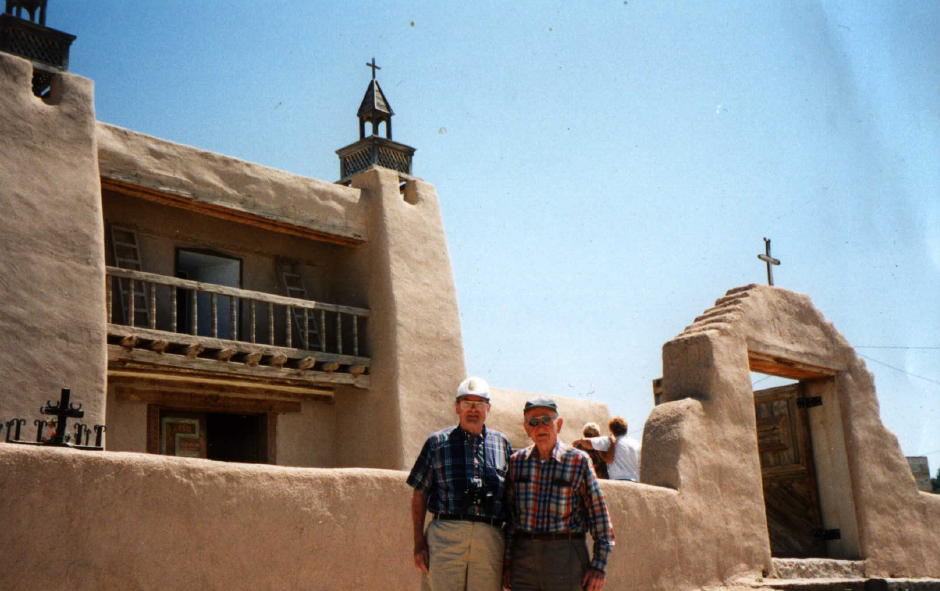 My fondest memories of childhood were not those of solitary pursuits. Not having someone there to share an otherwise awesome event seems to take the edge off the experience. Maybe it's because I simply want to say, "Hey, look at that!" and feel the satisfaction of having another appreciate and later reiterate the experience. Frequently, it works the other way. So many times I might have missed what another pointed out or interpreted.
I feel some sadness when I see parents showering their children with expensive gifts and elaborate parties. How often are the kids more fascinated with the packing crate than the contents? Yes, that Christmas when I received the full-sized balloon-tired two-wheeler persists in my memory, but I smile and relax when I think of those woodland walks with my father. The day we encountered a young Great Blue Heron who could not become airborne because it was trapped among dense trees along the Passaic River—how Dad covered its head and mean-looking beak with his jacket so we could carry it out into an open field—the thrill of seeing the bird slowly rise on untried wings…
One Spring I attended a week-long medical refresher course at the YMCA of the Rockies in Estes Park, Colorado. I invited my parents to join us, and they flew to Dallas. Mary Lou and I and our four children set out with them in our 1972 Oldsmobile Custom Cruiser station wagon. Despite the demands of the curriculum, we found time to walk the trails and see deer, beavers, American Dippers and a family of Blue Grouse (now known as Dusky Grouse).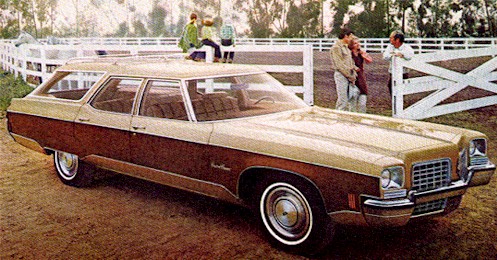 We had followed a direct route to Colorado, but after the conference I took leave for a few days to permit a more leisurely trip back to Texas. On the return leg, we spent two nights at Kachina Lodge in Taos, New Mexico.
The first night we watched Pueblo Indian dances, and the next morning we attended Sunday Mass at San Francisco de Asis in Ranchos de Taos. This adobe church, completed in 1815, is said to be the most photographed church in America. (Dad loved the old churches of New Mexico. The photo shows him, on the right, with his brother, Father Dan, on the High Road to Taos, visiting the church at Truchas/Las Trampas).
The ceremony was entirely in Spanish. It happened to be Father's Day. The priest invited all fathers to join him on the altar to recite the Lord's Prayer. Dad and I walked up and joined the congregation in prayer. I knew some Spanish, but Dad knew none. That did not dissuade him. He put his hand on my shoulder and launched into the Latin version of the prayer. While everyone else was saying "Padre nuestro que estás en los cielos, santificado sea tu nombre…" Dad was confidently announcing "Pater noster qui es in coelis, sanctificetur nomen tuum." The Romance cadences were so similar that no one seemed to notice. That Father's Day and all others afterwards held special significance for me.
During my working years I enjoyed beating the traffic and getting to the office early. I was able to close my office door and organize my day in peace and quiet before my co-workers appeared. When I retired from active duty I resolved never to sleep late. Therefore, when we moved to the mountains of New Mexico I set the alarm on my watch for 7:30 AM to nudge me awake just in case, but I rarely needed it. Dawn came quick and bright as the sun emerged in a blue sky above the ridge to the east.
So it happened that on Sundays, 7:30 AM Mountain Time was an ideal time for me to call my father, back home in New Jersey. By then he had returned home from early Mass and had finished his breakfast, and was in the middle of his morning papers. The chirp of my watch alarm was a gentle reminder, and rarely did I miss placing the call. If I happened to be a little late, he would ask about the reason for the delay. At Dad's funeral, his younger brothers told me how important those calls were to him. Unbeknown to me, he arranged his Sunday morning schedule to accommodate my call.
We talked about nothing in particular, though we often filled the greater part of an hour with banter. Embedded among discussions of the weather, politics and sports were those "I wish you could have seen…" and "Remember when we…" moments that swept us back to those earlier days.
I last called Dad only a few days before he died. He spoke of how wonderful it was to have a hospital room with a view.
Now in the Eastern Time Zone, my wristwatch still chirps at 7:30. Though two hours earlier in real time, the sun already dapples on the surface of our lake. And I whisper a Pater Noster in remembrance.
01/24/07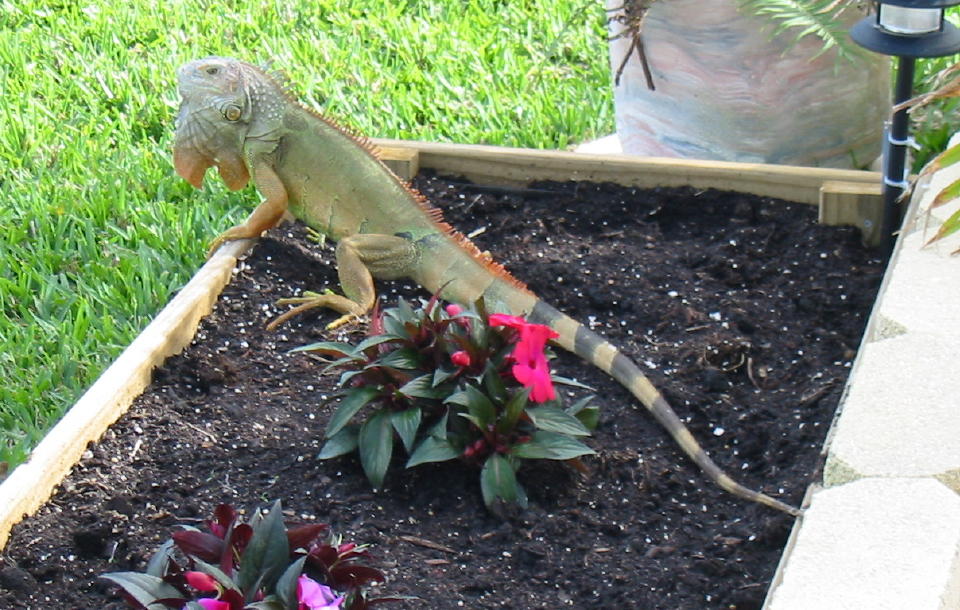 Yesterday, I set out some New Guinea Impatiens to fill the space in our planters created when I removed the tomato plants. Shortly afterwards, a three-foot long Green Iguana appeared on our patio.
These exotic reptiles, native to Latin America but descendants of released pets, are quite common in our parks and in established neighborhoods that have large trees. They are usually seen climbing on larger branches or sunning themselves along canals. This was the first Iguana I have seen within several miles of our home. The trees in our neighborhood are less than five years old. Of course, the Everglades start only a quarter of a mile from our home, and these creatures like to follow waterways.
They are excellent swimmers, and account for many "alligator" sightings. Vegetarians, they particularly like hibiscus and impatiens flowers. Perhaps this one smelled some fresh salad. After I took several pictures of the reptile, it ambled off.
The Green Iguana represents but one of the 279 species of exotic wildlife (196 species of birds, 31 terrestrial mammals, 4 amphibians, and 48 reptile species) reported in Florida. An exotic species is one that was introduced by human activity and is free-ranging in an area to which it was not native before European settlement. According to Florida Fish and Wildlife, 107 exotic animal species have been breeding here at least 10 years (but not necessarily consecutive years). In addition, thirty-two (32) species of exotic freshwater fishes are currently reproducing in Florida freshwaters, more than any other place in the world.
My garden flowers themselves may be counted among the "Green Aliens." According to the Florida Exotic Pest Control Council, "Approximately 31% of the plant species known to occur in Florida outside cultivation are introduced (non-natives growing on their own). That's 1,300+ exotic species established and reproducing outside cultivation. Of that number, about 10% are considered invasive in natural areas by the FLEPPC… (T)he second greatest threat to the 500+ endangered & threatened plant species in Florida is adverse effects from invasive exotic plants (the greatest threat is direct habitat destruction via population growth, urban sprawl, etc.)."
This Green Iguana Link provides some interesting information about yesterday's visitor to our patio:
"Green iguanas are an essential part of their native habitat, as are all organisms. As juveniles, they make a tasty meal for many predators. As adults, their fruit-feeding activities may help spread seeds in the habitat. Adult iguanas are not at risk from many predators, as they can defend themselves with sharp teeth and strong tails. If they make it to adulthood, they can be expected to live for 10-15+ years. There is one predator that the iguana is no match for, however – humans.

"Native people often refer to green iguanas as "the chicken of the trees", or "bamboo chicken". Green iguanas are harvested for their skin, meat and eggs. The time of year for iguana mating season varies from region to region, but it tends to fall in the months of January and February. Wild, gravid females are captured and their eggs are collected for food and to supply "iguana farms" with babies for the pet trade. While small-scale hunting is not a threat to iguana populations, large-scale harvesting, particularly to supply the pet trade, is.

"Although large-scale hunting and egg-collecting activities threaten wild iguana populations, the biggest threat to the wild existence of these lizards is habitat loss. As the rain forests disappear, so to do green iguanas. Although they are not currently listed as threatened or endangered, they are certainly at risk, along with all the other inhabitants of these forests."
01/23/07
This is Part 4 of 4 episodes. The first episode begins at this link.
The next morning I caught the first Eastern Airlines shuttle out of Newark Airport, a four-engine turboprop Lockheed Electra, my first airplane ride.
A short cab ride from Washington National Airport took me to the House Office Building. Congressman Pete Rodino's aide greeted me as I entered his office. He informed me that he had received my letter and contacted the Public Health Service. They had already located my record and they were expecting me. The aide said to return to his office and we could go out for lunch.
Things went smoothly at the PHS office, and I probably was treated the same as any other applicant, despite the political meddling in my case. One surprise was that I had to pass a written examination on public health and preventive medicine as a condition of acceptance of my application. Luckily, my interest in microbiology and parasitology, along with over three years of private practice experience with venereal and other communicable diseases left me confident that I had passed the test. Before I left the PHS offices, I received a phone call from one of NJ Senator "Pete" Williams' staff members, asking if they could be of any further assistance, surely thanks to my patient Jack's intervention.
The only hitch was that I still needed to pass a physical examination, and that day the clinic that usually performed it was not staffed for that purpose. They set me up for an exam at the Marine Hospital in Staten Island during the following week. I walked back to the Congressman's office, and his aide and I had lunch at a spot frequented by many members of Congress. I met Senator John Tower of Texas, who dropped by to speak to Congressman Rodino's aide. I was impressed that a man with such a tall name was indeed very short!
I flew back, and the next morning after making rounds I recounted the prior day's events with other medical staff members in the hospital coffee shop. One of those present was an Internist, who immediately recognized my Max as one of his long term patients. He said Max was a lawyer, and quite an accomplished one.
He asked if Max told me about the time he spent in Federal Prison.
"What???"
Yes, Max got caught up in some kind of contract fraud involving a Greek shipping magnate, and was convicted a few years after the end of World War II. Seems the Greek was purchasing Liberty Ships from the US Government and there were misrepresentations and financial shenanigans. Max did his time in a "country club" type of prison up near White Plains, New York.
Max never mentioned the name of the Greek. Does the following passage apply to Max's grateful client? From The Life of Aristotle Onassis: The Man, the Myth, the Legend, by Eva Prionas, Christos Kiriazis, Mike Elisofon, Andy Roberts, and Andy Salter:
"[Aristotle Onassis was] offered one of the greatest business opportunities of the post-war world. The United States Naval Commission put the Liberty Ships that were built during the war on sale. The price was established at $550,000, of which $125,000 could be used as a down payment, with the rest coming in 7 years at 3% interest.

"Many ship owners were skeptical on the construction techniques used on these boats, but Ari's opinion was that they would be a good investment. His problem was that he didn't have the money for the 16 Liberty Ships he had intended to buy, so he applied for a bank loan. His technique was quite a bit risky; for, before actually receiving the money from the bank, he contracted transports of coal in South America, France, and Germany on ships that he didn't own. He then used these contracts as a guarantee to the banks, who gave him his money.

"He used a different method to buy the T2 oil tankers that the navy put on sale for 1,500,000 each. As the principle clause of the sale, however, the tankers must be sold to an American citizen. Ari avoided this obstacle by creating an American company, United States Petroleum Carriers, with American shareholders. The government sold the new company four oil tankers. The next day, Onassis and his men anonymously took over the shares of the company that fell under the control of Ari."

According to Reference.com, "In 1954, the FBI investigated Onassis for fraud against the U.S. government. He was charged with violating the citizenship provision of the shipping laws which require that all ships displaying the US flag be owned by US citizens. Onassis entered a guilty plea and paid $7 million."


01/22/07
This is Part 3 of 4 installments. Click here for the first post.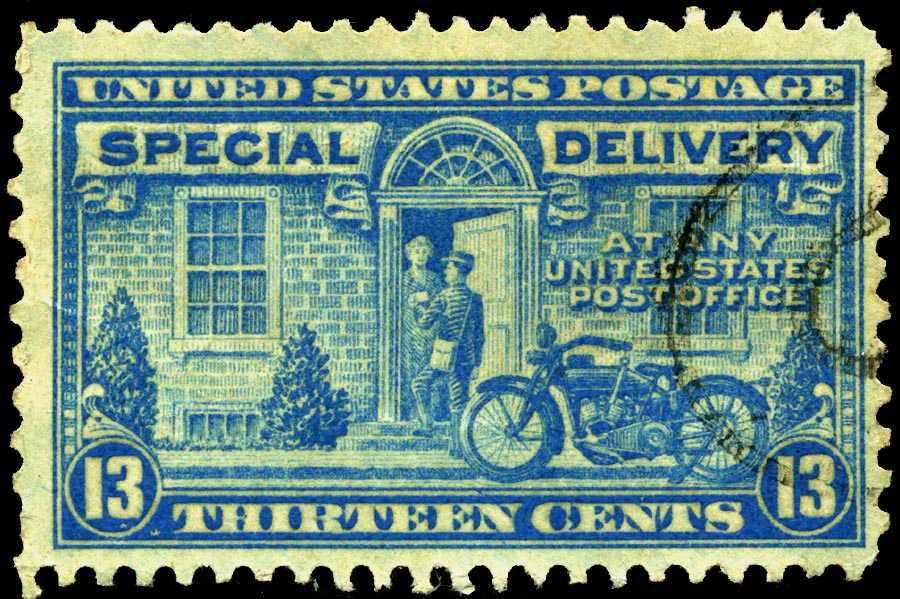 Max gave me no reason to question his sincerity. I did as he told me, and canceled or rescheduled a whole day of appointments. That evening, I composed the Special Delivery letter to my Congressman as Max had instructed. Our doorbell rang promptly at 7:30. Max was at the door with his Cocker Spaniel. The three of us hauled into my Sunbeam Alpine two-seater, the dog breathing down my neck from the rear cargo space.
We arrived at Newark Airport in plenty of time to assure that the letter would be collected and delivered the next morning according to plan. On the way home, I expressed my gratitude. Max stated gravely and rather formally that I had been most kind to him and this was the least he could do in return. He went on to say that he had been personally enriched after he extended his hand to strangers in need, and he seemed to be saying that now it was my turn to benefit because of my kindness to him.
In fact, Max said, it was a chance encounter with a stranger that resulted in "a most rewarding outcome." He said that after World War II he was in the habit of spending the first part of the week in his New York office, and then taking a train to his Washington office on Thursday mornings. He was such a regular traveler that the porter on the dining car always recognized him and had a little table for one reserved for him, along with the morning paper and a cup of coffee.
One morning, the porter told Max that there were more passengers than usual. Apologetically, he asked if he would mind sharing his table with another man. Max assented, and he found that his new table partner spoke very poor English. He had just come over from Greece, and was trying to close a business deal involving purchases from the US Government.
Max told me he recognized how badly the man needed assistance, and devoted that entire day and many days thereafter helping him. This was the chance meeting that carried such a great reward.
Concluding installment #4 of 4
01/21/07
This is the second installment of 4 parts. Click here for Part 1.
After I had applied for a commission into the Navy Medical Corps, Mary Lou found an alternative that I had never even considered, in one of the "throw-away" medical journals that cluttered our mailbox: "Options for your draft-eligible medical student son." It described the Commissioned Corps of the US Public Health Service, the oldest but next-smallest of the seven Uniformed Services with some 6000 officers on active duty (The NOAA Corps is the smallest, and the Coast Guard the next larger– you know the other four!).
I learned that USPHS served as the medical arm of the US Coast Guard. I had considered joining the Coast Guard Reserve back when I was in college, but quickly changed my mind after I attended my first drill and recognized one of the Petty Officers who gave us the orientation as someone who had recently dated Mary Lou— yuk! (I had only recently started paying attention to her, but that's another story!).
In addition to providing medical care to American Indians on reservations and American Seamen at port cities, and staffing the National Institutes of Health and the CDC (then called "Communicable Disease Control"), the USPHS also fielded teams of Epidemic Intelligence Service officers who were dispatched to investigate disease outbreaks all over the world, something that sounded very exciting to me. So, I completed an application for a PHS commission while still awaiting word from the Navy about appearing for a physical exam and negotiating a date for my call to duty.
The telegram notifying me that I had been drafted into the Army arrived on the last Friday in January. I immediately called the Navy, and was told that they had an agreement with the Army that blocked anyone from being commissioned into the Navy after receiving an Army draft notice. After an anxious weekend, I called the PHS from my medical office on Monday morning and was put on a long hold. When the clerk returned to the line she said that she could not locate my application. The person who handled it was on leave and would be away for more than a week!
After seeing my morning office patients, I headed back to the hospital. It had snowed overnight and the streets were freshly plowed. As I drove along Ridgewood Avenue in Glen Ridge, I encountered an unusual hitchhiker. He was a nicely dressed man in suit and tie and black overcoat, standing in the plowed part of the roadway in dress shoes, quite out of place. I stopped and asked if I could help him. He asked if I would be so kind as to drive him a couple of miles to Bloomfield Avenue, where he might catch a bus to the tubes in Hoboken that would take him to New York for a business appointment. Seems that his car was in the shop and the only cab in town was someplace far away.
Since I had some time to spare, I offered to take him all the way down Belleville Pike to the train station. I recognized him as the man who sometimes walked his dog past our home. He told me his name was Max. After we exchanged pleasantries, I told him of the recent significant events in my life. He seemed shocked at the inefficiency of the government bureaucracy. He told me to write a description of my experience in a Special Delivery letter, addressed to my Congressman and stamped with the proper postage. He would come by my house at 7:30 that night and we would drive to Newark Airport to deposit the letter in a mail receptacle there. This would assure delivery of my letter to Rep. Pete Rodino's desk tomorrow morning. I was to plan to fly to Washington DC on the first Eastern Airlines shuttle in the morning.
It sounded crazy, but as he exited my car he reiterated the instructions, saying he would see me at 7:30 PM and to be sure to clear my schedule tomorrow. After a short stop at the hospital I got back to the office a little late and had a busy afternoon. One of my afternoon patients was Jack, with whom I shared my story of the hitchhiker.
Jack was a prosperous businessman who owned the major cold storage facility at the Hudson River terminal of the Erie Railroad. He said that he was going to call one of our US Senators and ask his staff to provide me with any necessary assistance. It was an unbelievable set of experiences.
Continued in installment #3 of 4