01/05/07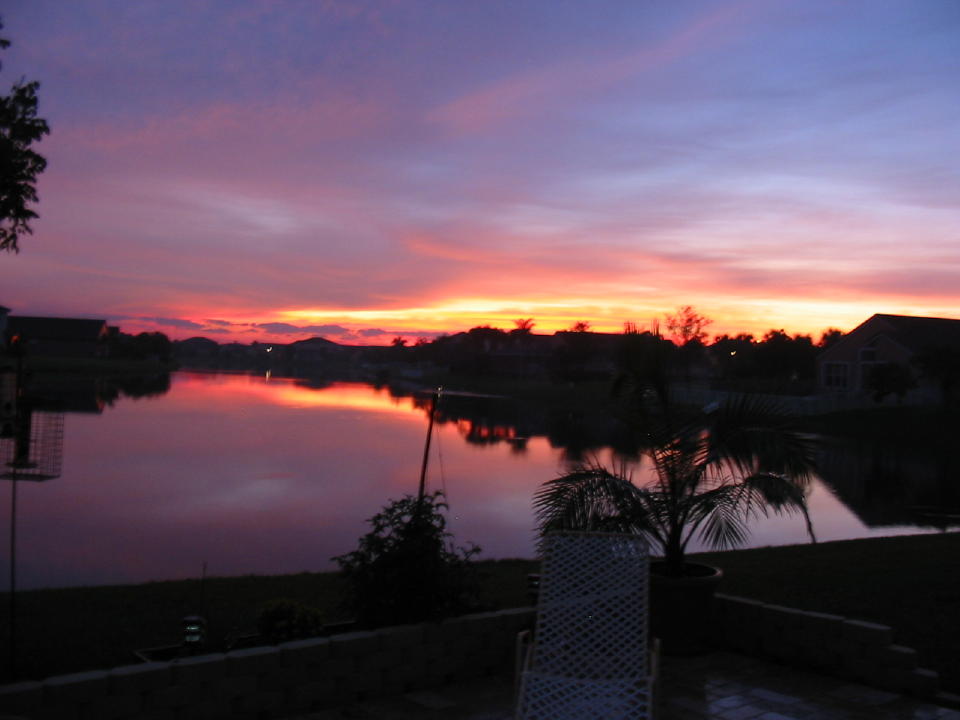 This morning the surface of our lake was as smooth as glass. The sun, still unseen behind the coastal cloud banks, created an ever-changing panoply of colors. As I sipped coffee and watched the sunrise from our back patio I reflected that this was the kind of weather that makes Florida such a winter delight. Suddenly an Osprey flew directly overhead, toward the center of the lake. It rose higher and wheeled as if ready to plunge. Instead, it parachuted down and then dropped suddenly from only about 10 feet high. Surprisingly, it almost submerged, and then flopped up to the surface, seeming unable to rise.
Laboriously, the Osprey made toward the opposite shore, half flying, half rowing. After several wing flaps it rose sufficiently to permit its wings to slap on the water's surface as it struggled with a large and heavy fish. Either it misjudged its abilities or had not accounted for the lack of a headwind, but in any event, after slowly flying about 30 yards, the Osprey dropped back to the surface of the water, shook and then lofted up, now obviously free of its fishy burden. Behind, the escaped prisoner produced one last big splash and disappeared. The frustrated bird returned to circle the spot several times, looking for the fugitive. Unrewarded, it finally flew towards the next lake to our east.
Our lake water, like the many canals and marshes in the Everglades, is stained brown like weak tea from the tannin in rotting vegetation. (The water is also rich in iron and other minerals, as we discovered soon after we moved here. Since we pump the lake water to irrigate our lawn, the sprinklers also bathe the walls of our house, leaving dark brown stains that need to be removed every month.) There have been no recent rains to produce runoff and roil up silt, so the water is very clear. This morning's conditions were perfectly suited to the Osprey's hunting habits. They like to start work early, before the sea breeze picks up. Not surprisingly, an Osprey was my first yard bird of 2007.
This bird may have caught one of the Grass Carp (pictured; more about it here) that are purposely stocked by the Water Conservation District in order to control underwater vegetation. Florida has many exotic water plants that have few natural enemies. These fish are bred to be sterile, as they have three sets of chromosomes instead of two) and they are protected. Some grow to nearly three feet. They like to loll just below the surface with only a dorsal fin exposed. Ospreys have been known to drown when they were unable to release their claws from a big fish. They have been found floating dead, claws still attached to their catch.