12/28/06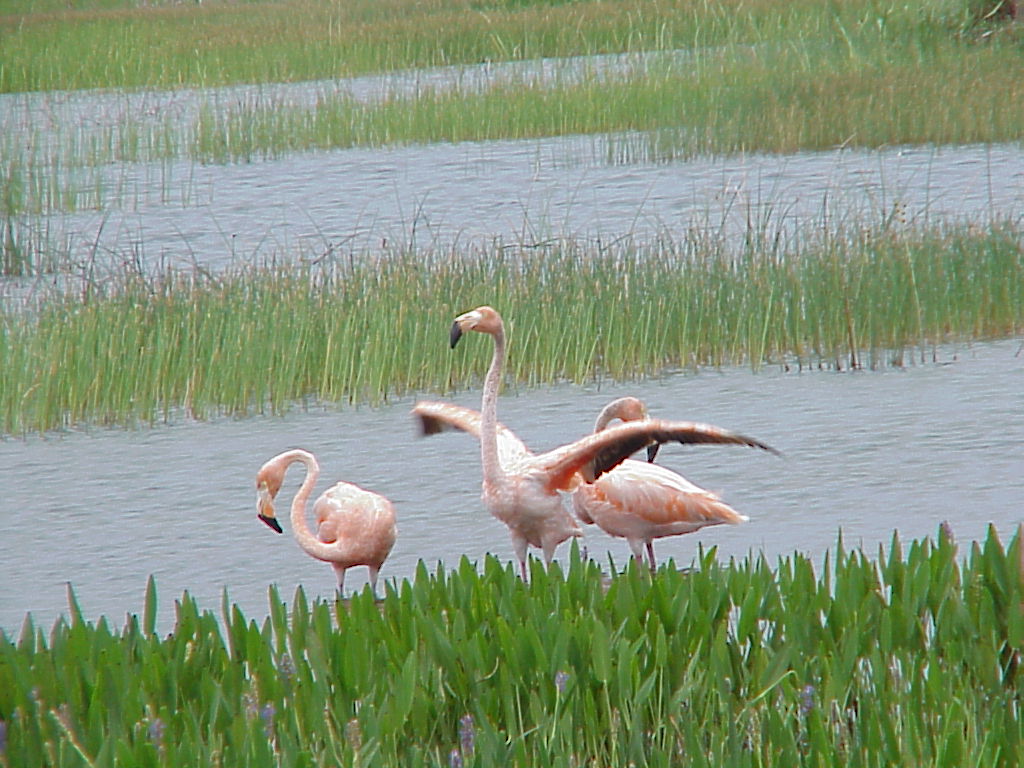 On the evening of July 16, 2005, after Barry Heimlich, Fred Griffin and I saw the four flamingos just north of our home, Mark Miller coincidentally provided very detailed observations of four Greater Flamingos he saw feeding in wetlands in SW Pembroke Pines, Florida. Our sighting occurred just a few blocks south of this location at just about the same time that Mark said they flushed because of a loud noise, so we presume these were the same birds. "Janine B." reported (on the Tropical Audubon Society Bird Board that she saw a flock a little earlier that day in the same general vicinity.
We then had to go away on a trip, but on the morning of July 30, Mary Lou and I visited these wetlands and saw no flamingos. (We did have a friendly Limpkin on the road). On the way out we talked to David Tringo, a nearby resident who said the flamingos had been showing up almost every day since around July 8th, when Hurricane Dennis passed by, at least up until the prior week. He said he photographed them (above photo) and that the flock numbered from "seven or eight up to about 20." He said they were bright pink, and they waded into the water up to their bellies and were feeding. Mark had noted similar behavior. Mark also confirmed that they were Greater Flamingos.
Hurricane Dennis was the first major hurricane of the season, the strongest Atlantic hurricane ever to form before August. After hitting Cuba twice as a Category 4 hurricane, Dennis made landfall July 10, 2005 on the Florida Panhandle as a Category 3 storm with wind speeds of up to 121 mph. As this image of the storm's track indicates, the eye traveled north, off the west coast of Florida, producing sustained southerly winds over the entire peninsula. Hurricane Dennis was the worst hurricane to strike Cuba in over 40 years, crossing the Zapata Peninsula of Cuba, where the Greater Flamingo is a common resident (See this recent Field Museum report on this bird-rich area). It carried up many southern specialties to the SE US: Sooty and Bridled Terns, Brown Noddies, even an Audubon's Shearwater that made it into Tennessee.
Flamingos once roamed extensively over South Florida, but in recent years the only reliable sightings were of a flock at the southern tip of the peninsula at Snake Bight. This flock's origins are uncertain. They may have flown in from one of the islands in the Caribbean and decided to stay. Interestingly, the Snake Bight flock was not seen at that location for about a year following Dennis.
It is possible that "our" flamingos were swept up by Hurricane Dennis from Snake Bight or even the Caribbean. Another possibility is that they wandered from the free-flying flock at Hialeah Race Track, which is southeast of our home. One or a few of these birds are sometimes seen flying in the immediate vicinity of the Track, but larger flocks have rarely been reported. Broward County had not recorded any flocks in over 10 years. Flamingos are not known to breed in the wild in Florida.
12/26/06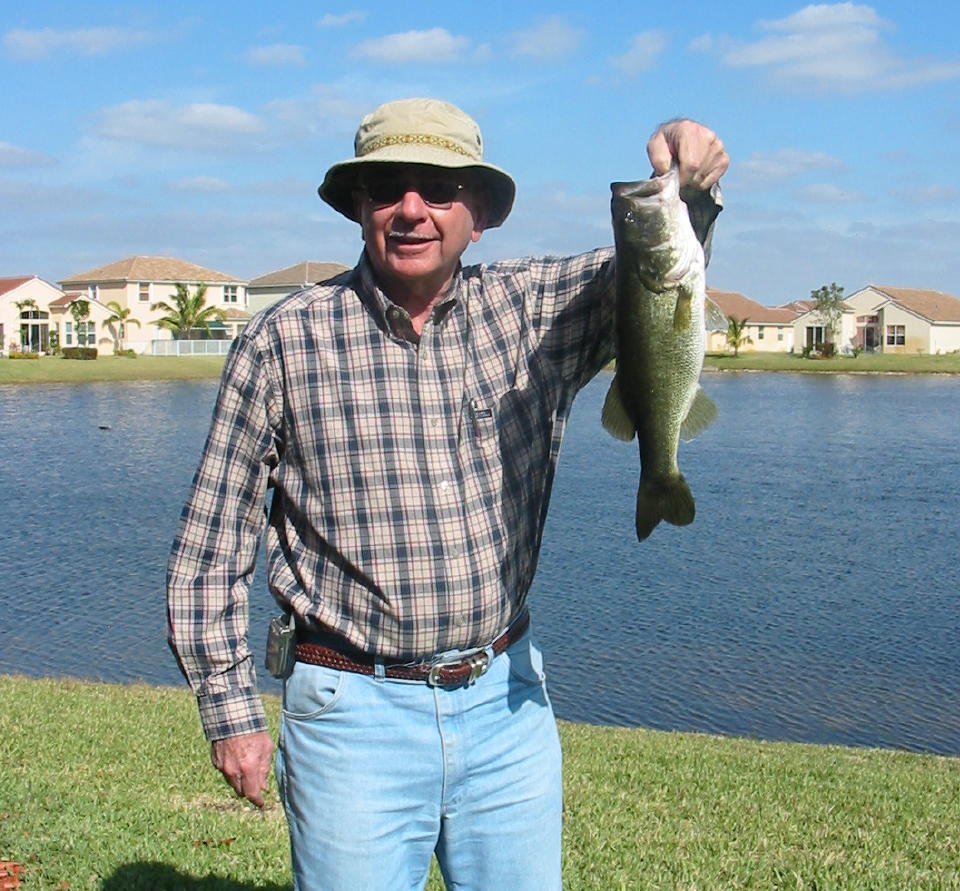 Our backyard lake has an abundance of Largemouth Bass. While I am not an avid fisherman, I enjoy wetting a line at times. Since the lake is fed by runoff from insecticide and pesticide-treated lawns, I would not think of eating anything that lived in it. So it is strictly catch and release. Top-water lures are the most fun, if conditions are right and the fish are taking them. Strikes can be dramatic, but the use of these lures requires considerable attention.
More often than not I fail to set the hook firmly, and my fish are able to eject the lure by jumping high and shaking furiously. Fishing and birding, while not mutually exclusive, are not entirely compatible pursuits. It is impossible to use binoculars and a fishing rod at the same time. Many birds are attracted to the lake, so they are a source of distraction. However, if I had not been fishing I would have missed some great views of birds.
Year round, Ospreys patrol the lake and sometimes dive with a wondrous splash, emerge, shake off excess water, and then if lucky, lumber upward with a catch. In winter, a Bald Eagle occasionally shows up out of nowhere to hijack the trophy. More common winter visitors include Caspian Terns, Ring-billed Gulls and one or two Belted Kingfishers.
While fishing the evening of July 12, 2005 I looked up and was startled to see a flock of huge pink birds with long gangly legs, knobby "knees" and the unmistakable hooked bill shape of flamingos. They flew with outstretched necks and their flight feathers were black. Flocks of up to nine birds flew over our lake three times between July 12 and 16.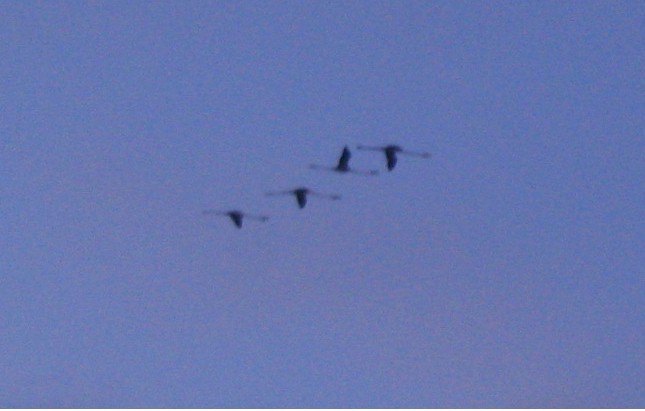 The evening flocks appeared to be flying away from a point nearly due north of our home. We put out an alert on the Internet, and decided to backtrack them the next evening, July 15. Mary Lou and I walked nearly a mile north on a roadway that was under construction just west of our home, but failed to see them. Then, the next day we got a call from Barry Heimlich, President of the Broward County Audubon Society. Barry and BCAS Board member Fred Griffin wanted to see the flamingos, so they came over after supper and we walked along the same roadway. We were discouraged when it started getting dark and none had shown up, and started back home. Suddenly four flamingos flew directly overhead (Barry took this blurry, but diagnostic photo).
View subsequent related post here "Origin of Flamingo Flock".
12/25/06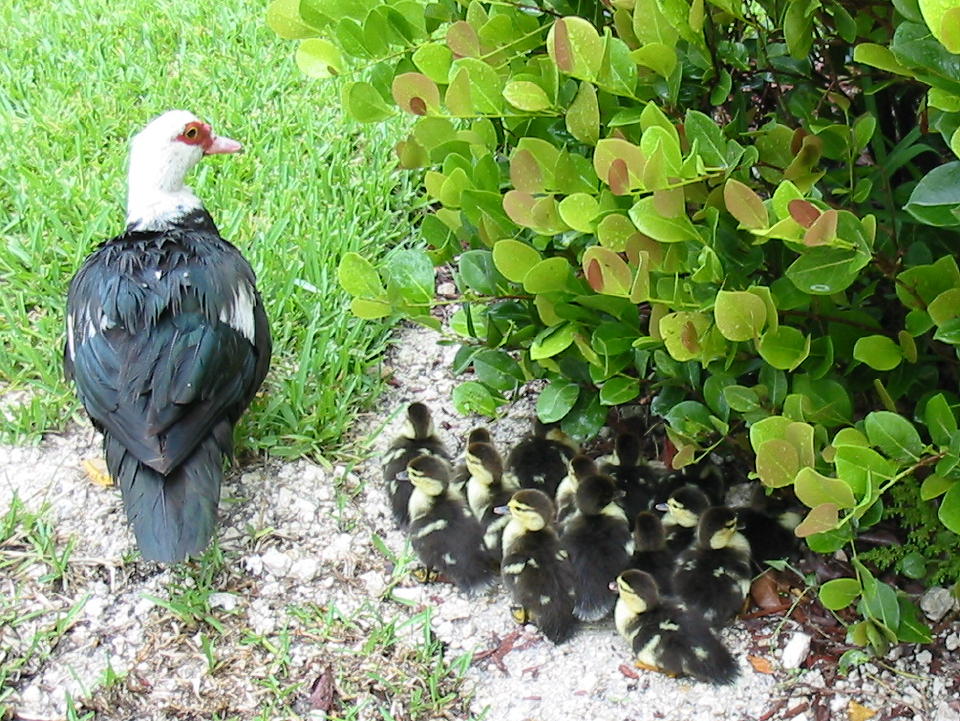 Following my observation of the Muscovy Duck infanticide I was curious about what else might be killing off the ducklings, as relatively few seem to reach adulthood. This is surely a good thing, as our lake (which is only about 1/4 mile long and about 200 yards wide at most) seems to be at capacity and there is much competition and territoriality—except when some resident or visitor feeds them bread, in which case they flock together and beg.
Early this year I found a hen sitting on 14 eggs under the Cocoplum hedge next to our back patio. Each time she left the nest she covered the eggs completely with down plucked from her breast, then camouflaged the nest with dried leaves. All 14 eggs subsequently hatched (photo), but her brood declined dramatically, day by day. I showed the nest to a young boy from Colombia who was visiting our neighbor. He dropped by to photograph the ducklings when they were 4 days old. That day there were only seven remaining, and the duck family was swimming about 15 feet offshore. Just as he went to take a picture, a large bass broke the surface and instantly disappeared with one of the babies.
Certainly, Red-shouldered and other hawks, Raccoons, turtles and larger herons also take their share of ducklings, but so far I have not witnessed any more ducks killing their own babies. The most serious incident I have observed since the mass infanticide that I reported in January, 2005 has been one case of a drake chasing after a hen with a brood of about 8 chicks that looked to be about one day old. He tried to copulate while she was swimming near shore. She shepherded her chicks out of the lake and they huddled together while she ran away from the drake on the grass, away from the chicks. He chased her into the water and jumped on her, but she dove underwater.
To my surprise she swam away underwater, about 15-20 feet before resurfacing. This evasive diving was repeated several times. He seemed to finally catch her and may have been able to copulate. Then he left her alone and she returned to her chicks after a few minutes.
After I reported the Muscovy infanticide on a birding newsgroup, other birders described similar observations. One lady who lived on a lake in a nearby community wrote that she had been trawling the Internet under the keywords "Muscovy, duck, infanticide" and had found my posting.
"I thought I'd get in touch because I have just witnessed the same behaviour as you describe re a Muscovy duck killing another's chicks… (A)mong the many birds here is a Muscovy duck who started out with 16 chicks a week or so ago, but every day she has one or two less. She is now down to just five. We presumed perhaps a raccoon was using them as snack material, but now we're not so sure because earlier this evening there was quite a flap outside and I looked out to see one of the male Muscovies running off with a chick in his beak. He was being quite rough with it, dropping it on the ground and snapping at it with his beak before keep picking it up and shaking it etc. It was quite horrible to watch as he seemed intent on injuring/killing it.

"The mother duck, meanwhile, had taken refuge on top of our pool screen and was clucking loudly, which was what had caught my attention. Her other four chicks were lying in the grass without her protection. This is not the first time that we have seen this male bullying a mother with chicks, but it is the first time we have seen him try to kill one and we wondered if maybe he's responsible for the loss of the others too. I took a few paces towards him and he dropped the chick, who I then shooshed into the water and guided him back to his mum, who by now had flown back down to protect her other chicks. The little one looked quite shaken up, but is OK… It's quite bizarre and
while I understand the need for natural selection and population control etc. this just seemed quite brutal for a duck to kill one of its own."

Another Florida resident wrote: "Muscovies are not the only species to kill ducklings! I witnessed male mallards killing Muscovy ducklings by drowning in one of the small retention lakes at South Regional Library in Pembroke Pines many years ago (1990?) It was most unpleasant because I had taken my nieces (then aged about six and eight) to see the pretty ducks at the lake…it was a sad lesson in nature's toughness."

A reader from South Africa added her observations, suggesting that parental inexperience may be a factor in this case: "I have a problem with my Mallard father. He is killing his own ducklings. I went onto the web and found your writings about the problem. The hen laid 18 eggs. 16 hatched. In the first week the male started attacking the ducklings. He took them in his beak and shaking them vigorously, he killed four of them. Just as I wanted to intervene, he stopped.

"Now, three weeks later, he started again. I caught him and put him into a cage, but the mother did not stop quaking and he flew up against the wire. I released him again but this morning he killed another baby. I was wondering if finding another female might do the trick. The ducks roam freely. They love to swim in the pool. As far as I know, there was no disturbance or any stress for the ducks. The father duck was very protective at the beginning. Then all of a sudden he attacked the ducklings.

"At first I thought he was only teaching them some manners (ha-haaa) but soon realized it isn't case. This morning I separated the ducklings from the pair for two hours. As soon as I let them loose, he immediately attacked one. So, the "awful stepmother" took him to the house next door and put him in a bigger cage further away from the mother and ducklings. I have phoned a friend of mine to find me another female, so I will definitely keep you posted.

"My friend told me that they encountered a similar problem two years ago. For no apparent reason, the male first destroyed some eggs, and then attacked the ducklings, killing them. This year though, he is an excellent father. She said they came to the conclusion the mister was just young. I sincerely hope this is the case."

In Texas Nature Blogspot, a nature writer describes infanticide in Purple Martins and summarizes theories as to the cause and value of this behavior.
12/24/06
This is the fourth of four posts on this subject. First Installment is here
During the late 1960's in New Orleans, one of my volunteer projects was to institute a weekly evening medical clinic in the Lower Ninth Ward. This was accomplished with much help from local citizens (notably Mrs. Allie Mae Williams and Mrs. Morrice Johnson) and medical students from Tulane University. Sadly, this old neighborhood was devastated by Hurricane Katrina.
A very memorable experience was on Friday, April 5, 1968, the day after Dr. Martin Luther King was assassinated. I had to park quite a distance from the shotgun frame house that served as our Lower Ninth Ward free clinic. Parked cars had already taken up both sides of the shell road for more than a block. People were out on their front porches. Usually, we exchanged cheerful waves to the sounds of jazz music as I trudged along with my white coat and little black bag. That evening there was silence. There seemed to be agony oozing out of the houses, and I found it hard just to look up.
When I entered the waiting room I saw that the power had failed, a not uncommon occurrence. In the gathering darkness, I could barely see all the people who were silently awaiting my arrival. A couple of Tulane medical students had gotten there before me, and they were already busy triaging the patients and getting them ready for the physician. We examined by candlelight and flashlight. Gloom pervaded the day and then, the night.
The next week pain had turned to tension, and as I walked to the clinic I encountered a gang who had surrounded two fighting men. One had a knife, and the other wielded a baseball bat. As they scurried about, the crowd ran along with them and pressed around them. Did I ever feel silly, standing there in my white coat like the ringside doctor waiting for my victim! Luckily, both were simultaneously restrained without signs of major injuries.
12/20/06
At Albuquerque's Rio Grande Nature Center, the groups of school kids that I guided as an interpreter rarely sighted any coyotes, but their tracks were often evident. To help distinguish them from domestic dog tracks, I went through the "3 P's." First, the "Paws": their robust shape and minimal nail imprint. Second, "Perfect-stepping": when walking, coyotes place their hind feet precisely into the prints of their front feet (as do cats), producing a "two-legged" set of tracks. Finally, the tracks of coyotes are "Purposeful," meaning that they exhibit intent, or are directed toward a goal or reward. They tend to go in straight lines, from this tree to the cover of that bush, to then intersect with the tracks of a bounding mouse or vole.
Wild creatures cannot afford to waste energy. In the snow of New Mexico's Sandia mountains, I often noticed the difference between the "purposeful" stride of a coyote or Gray Fox, as opposed to a pet dog's meanderings. Young coyotes (and young rabbits) appear to "waste' much energy in play and seemingly mindless scurrying about. However, they are gaining survival skills with a long term payback.
Some behaviors, such as the territorial skirmishes of the Muscovy Ducks on our suburban lake seem easy to interpret. They are directed at passing on the toughest drake's genes. When food is scarce, some birds of prey, such as eagles and owls, may produce two or more chicks, only to have the older and stronger siblings kill their nest-mates. Again, we see the value of this fratricidal behavior, as likelihood of survival of at least one of the progeny is increased.
Last January, 2005 one of the Muscovy Ducks that inhabit our South Florida lake, appeared at our back door with seven newly hatched ducklings, a bit early in the breeding season. Two days later she was sitting on a neighbor's lawn about 20 feet from the lake's edge with the ducklings under her wings or milling close by. Suddenly as if on signal, twenty or so adult ducks began flying or swimming rapidly towards her, mobbing her.
Thinking I saw a yellow ball of fuzz in one of the ducks' mouth, I ran inside to get my binoculars, as the ducks were about 100 yards away. Sure enough, the adults had captured and killed all seven ducklings. They fought over the carcasses and attracted Ring-billed Gulls that stole most of them and flew off.
The ducks were at the height of courtship with lots of head-bobbing, tail-wagging, fights and copulation. Perhaps this had something to do with this (presumably) unusual behavior. The attackers/mobbers appeared to include both sexes.
It is difficult to interpret such behavior. Did it carry any survival value? Had the local duck population reached a critical mass that triggered some deep instinct to assure adequate resources, such as food and shelter? Infanticide may be analagous to fratricide– if the chicks were sired by a rival or non-relative of the the attackers, it might even be more effective, as it also eliminates competing genes.
See follow-up responses on avian infanticide here.
A FEW GLEANINGS FROM THE LITERATURE:
Eugenie C. Scott wrote in a review of "Infanticide: Comparative and Evolutionary Perspectives," that avian infanticide is not a "rare, pathological aberration brought about by unusual conditions. It is too common. The behavior has more recently been considered as an adaptive response at the population level to pressures such as overpopulation, or as an adaptive response by individuals."
High breeding density appears to have increased the aggression of a female to the point of infanticide in the Spot-billed Duck (Anas poecilorhyncha) observed on a small pond at Yatsu tidal flat, central Japan, from May to June 2000.
"…(S)ix families of conspecific and one Gadwall A. strepera family, respectively, occupied territories. A female Spot-billed Duck with 11 ducklings attacked ducklings of all the other families killing eight conspecifics and three of the Gadwall. High breeding density (15.0 families/ha) may have increased the aggression of the female." [A case of infanticide in the Spot-billed Duck in circumstances of high breeding density : Tetsuo Shimada, Kazuyuki Kuwabara, Saori Yamakoshi, Tomomi Shichi, Abstract]
Competition for nest sites, mates or food is implicated in this study of European Starlings:

"Avian adult infanticide (the killing of conspecific young by an adult) has been reported for several species (e.g.: Crook and Shields 1985, Loftin and Roberson 1983. Trail et al. 1981). Here we document one case of attempted infanticide and circumstantial evidence for 3 more cases of infanticide in the European Starling (Sturnus vulgaris).

"In all cases, the nature of the wound was the same: a peck mark near one of the auditory openings. Similar wounds have been reported by Crook and Shields (19 8 5) Shelley (1934), and Stacey and Edwards (1983) in the context of infanticide…. In addition, similar peck marks have been found around the head and neck of dead adults (n = 3) found in nest boxes, and on the faces of pairs of birds that we have captured fighting inside boxes (n = 8 pairs), suggesting that bill stabbing is not uncommon.

"In two of the four cases, a female was suspected to have committed an infanticidal act. We suspect that infanticide in our population is related to competition for nest sites, a limiting resource (e.g., see Hrdy 1979). Other reports of female infanticidal behavior have been reported by Loftin and Roberson (1983) and Picman (1977). In both cases, a limiting resource (such as nests, mates or food) has been suggested as a reason for infanticidal acts.

"The importance and frequency of avian infanticide is largely unknown primarily because the observation time necessary to document this phenomenon can be prohibitive. As a result, infanticide may have greater biological significance than is implied by the existing literature. We encourage all observers to be cognizant of the possibility
of infanticide in their study populations."
Intruding males and females may gain a reproductive advantage by killing the young of prospective mates [Prospective Infanticide and Protection of Genetic Paternity in Tropical House Wrens]:
"Sexually selected infanticide occurs when adults kill dependent offspring of potential mates and initiate new reproductive attempts with those mates more rapidly than if they had waited for the offspring to become independent."