05/31/09
On May 25th, an adult eagle was eating unidentified prey on the nest…
…while a second roosted nearby:
Our time back in Florida has sped by so quickly. Since we had a house guest,we went sightseeing at several of the popular tourist destinations. It rained regularly every afternoon, so there were morning jaunts to Butterfly World, Fort Lauderdale river front and harbor cruise, and other points along the Atlantic coast and out Alligator Alley. There was little time for birding, though we took the tram ride at Shark Valley in Everglades National Park, and got out very early to visit our local Bald Eagle nest a couple of times.
The two chicks produced by the eagle pair have been flying freely for eight weeks. We were surprised to find that the parents continued to bring food to the nest right into this past week. The older chick, named Hope, was last seen on Saturday, May 23, the eighteenth week after she hatched. Her younger brother, Justice is still returning to the nest, and was possibly fed a small meal by a lingering adult only this morning. The feedings have been progressively smaller and infrequent.
This morning, while I found only one eaglet at the nest, Mike Fossler saw and photographed one adult. It was being harassed by a mockingbird. His dramatic photos may be viewed in the slide show at the end of this post.
This Anhinga, resting on our back lawn, scolded me when I disturbed it:
The rains had greatly increased water levels in the Everglades. This was good for the wildlife, but limited viewing opportunites, as they were no longer concentrated in the small pools. Yet, I was able to capture a remarkable sequence as one bird failed to heed my mother's admonition, to not eat anything larger than my head.
Great Blue Heron hunting along the canal at Shark Valley Visitors Center:
The heron bags a good-sized tilapia:
He's not going to try to swallow that big thing alive, is he?
I can't believe this!
Down it goes!
Limpkins can be hard to find, but this one posed cooperatively:
An immature Little Blue Heron, in its temporary white plumage, stalks along the water's edge:
At Butterfly World in Coral Springs, a pair of lorikeets engages in mutual preening:
A haughty macaw eyes me with suspicion:
This is one of many varieties of passionflower hybrids that have been developed at Butterfly World:
05/22/09
Tom Mitchell captured this image of an adult bringing a fish to both chicks in the nest on Saturday morning, May 23, 2009
(c) 2009 Tom Mitchell, used with permission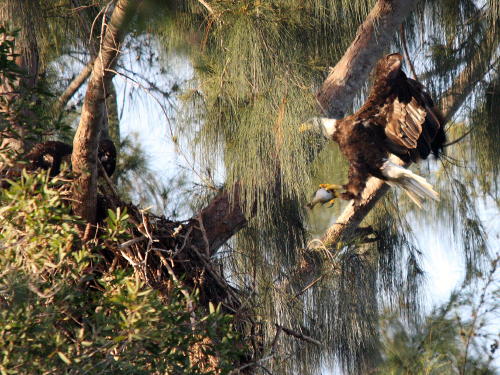 We arrived in Florida late on Wednesday, and got out early the next morning to check our local Bald Eagle nest. The chicks (named Hope and Justice in a nationwide poll) are 18 weeks old this weekend. They fledged at 11 weeks of age, and usually spend the night in a roost together near the nest tree. They still return to the nest for occasional feedings. The portions brought in by the parents seem to be smaller and are offered less frequently. Although none of the observers has seen either of the eaglets with prey, we must assume that they are learning to hunt for themselves.
When we got to the nest at about 8:30 AM, no eagles were in sight, but within a few minutes both of the youngsters flew in and roosted in trees right along the road.
Justice, the younger sibling, followed his older sister to the tree:
Justice's plumage is noticeably darker:


Hope is a lighter brown, and both chicks' beaks are starting to get yellow at the base:


Hope flies off:
Heavy rains have limited observation of the nest for the past two days, and we stayed at home . This afternoon there was a break in the weather, and two Double-crested Cormorants fished near the shore of our backyard lake. They attracted both a Tricolored and a Green Heron. I captured an interesting sequence of photos as the Tricolored stalked and then caught a small fish. The bird swallowed the fish in a blink of the eye. The last three photos were taken within a two second interval, from 4:06:06 and 4:06:08 PM EDT!
With the sun at its back, the Tricolored Heron intently watches the water, stirred by a brisk breeze. "I see the fish!":
It strikes and succeeds (click and select larger size to see the water droplets frozen in space). "I seize the fish!" (04:06:06 PM):
Taken one second later (04:06:07 PM)"I squeeze the fish!"


Then, only one more second later (04:06:08 PM), "Down the hatch!"
A Green Heron fishes patiently nearby:
05/20/09
Our Illinois daughter's family dog is a golden Tibetan Mastiff named Agramonte. He is now 17 months old and is a wonderful companion for their two small children. An ancient breed, Tibetan Mastiffs retain some features of ancestral wild canids. They mature slowly, taking about 4-5 years to attain full size. They also go into estrus only once a year, and have a rich undercoat that is shed all at once in the spring. This means that they do not release dander into the air for about 11 months of the year, so they are considered to be "hypoallergenic." This was an important consideration in selecting this breed, as one of the children suffered severe allergies from their previous pet, a Dobie-Lab mix named Maceo. The sad story of Maceo's last days is detailed here: Losing a Best Friend
Agramonte, at four months of age, with las Nietas:
Agramonte, true to his breed, is intelligent and placid, but stubborn. In Tibet, where they are sometimes chained all day and released to roam at night, they are known as vicious guardians of the villages. Happily, the family took great pains to socialize him with other dogs and also people of all ages, so his protective instincts are tempered. He enjoys the company of the children, and does not protest when they climb all over him. Even though he now weighs over 100 pounds (and may put on 30 to 40 more) he exhibits some adolescent traits, such as making off with shoes and toys, to the delight of the children and consternation of their parents.
Agramonte accompanying the girls on a nature walk:


When we are in Illinois, I frequently take Agramonte for walks, something he eagerly anticipates. We often stroll through a nearby streamside park with wood-chip paths that loop into a forested area, great bird habitat. When Agramonte walks, he likes to keep moving, tugging on his leash while I am trying to look through my binoculars. My solution has been to stand on his leash while I birdwatch, trying to ignore his tugs and impatient whining. Finally, he accepted my disturbing habit, and learned to simply lie down and rest, a skill that seems to be perfected in this breed. When a Tibetan Mastiff decides to lie down, few forces on earth can make him get up and get going again!
Sagua at 4 months:
Well, all this has changed, as his masters believed that it was not good for him to be alone. Last week, we drove up to Wisconsin and picked up a four month old female, a black and tan named Sagua (actually Washanti's Ermita de Sagua la Grande, named after the little church in our son in law's home town in Cuba). The two dogs get along famously, and play to the point of exhaustion. Agramonte has already lost most of his mischievous traits. It took Sagua a few days to get used to the leash, but now she leads the way and has no respect for my desire to make frequent stops. I've found it easier to just leave the binoculars at home when Sagua accompanies us into the woods!

Agramonte caused this distressed Killdeer to go into a distraction display as we unknowingly walked near its nest:


I went back later and found its four eggs, only a foot from the edge of a manicured lawn:


We have tried to squeeze as much spring migration birding into our schedule before departing. Walks in local nature area (sans dogs) have produced some images of representative species.
Sedge Wrens are claiming territories in the meadows at Nelson Lake Forest Preserve in Batavia, IL:


Nearby, a Rose-breasted Grosbeak sings his heart out:


Competing Baltimore Orioles display to each other as females look on:
05/15/09
So far this spring, we have failed to catch sight of a bluebird. From the reports of local birders, we know they are around, but family obligations have kept us from going very far afield. Still, they were present last year at a nest tree in Jones Meadow Park near our home, and most mornings during the past couple of weeks we have tried to squeeze in even a half hour of birding, there or at another Batavia (Illinois) park, Hawk's Bluff Park.
While searching for the returning bluebirds, we saw another member of the thrush family that has shown up in good numbers this spring. This dull-backed species lacks the reddish tail of the Hermit Thrush, sports buffy cheeks and a prominent eye ring.
A Swainson's Thrush posed on the turf, and then took up a perch to peer back at us:


A Warbling Vireo sang its rolling and rollicking, loud and repetitive: "I see the bug, I seize the bug, I squeeze the bug, I eat it:!"
Nearby, a Song Sparrow poured out its (what else?) song:
American Robins, common as they are, make beautiful photographic subjects:
A Chipping Sparrow posed nicely on a fence post:
On the small lake, a pair of Canada Geese guarded their two little ones:
We enjoyed a Mothers Day brunch at Morton Arboretum, and the grandchildren enjoyed watching the Tree Swallows at their nest box:
House Sparrows had commandeered the Purple Martin condominium:
The children are always fascinated by furry creatures, like this Fox Squirrel:
Dandelions abounded on the lawns of the Arboretum, and it was fun to watch the fluffy seeds disperse at the slightest breeze:
Though dressed in their Sunday best for Mother's Day, the girls enjoyed frolicking in the extensive play area:
05/08/09
We set out this morning to Lippold Park in Kane County, Illinois, hoping to see our first Scarlet Tanager of the year. For the past week we searched for them in vain. Today we were not disappointed, for within 15 minutes we heard its husky "robin with a sore throat" song. As it was early and overcast, and the bird kept to the treetops, nearly all my photos were badly backlit and showed little color or detail.
This shot was about the best I got:
He took flight on translucent wings:
We logged 37 bird species, several heard but not seen, and obtained few good photos because of the light conditions and the fact that many were small guys flitting in the treetops. A pair of resident Eastern Towhees were courting and calling loudly. They let us get quite close.
The male showed off the pattern on his back:
In the female towhee, black is replaced with warm brown, no less beautiful:
The male towhee provided me with my second flight capture of the morning:
A White-breasted Nuthatch peered inquisitively from his upside-down perch:
Later in the afternoon, I walked our daughter's family Tibetan Mastiff, Agramonte, and birded Hawk's Bluff Park in Batavia. Located along the western bank of Mill Creek, this new small park is host to varied habitats including a tall oak woodland, grasslands, stream and marsh. This afternoon's dog walk yielded 43 bird species. The light had improved, so I did get a few nice photos.
A Baltimore Oriole gleaned the buds of a small tree, apparently eating insects, flower petals and drinking nectar.nectar:
This was the first oriole to hold still for a photo since we saw our first arriving migrant about a week ago:
Several Nashville Warblers with distinctive blue-gray heads and conspicuous shite eye rings flitted about in the understory:


A Chipping Sparrow peered out from the shrubbery:
On the walk back to our daughter's home, I watched as three Red-tailed Hawks interacted, perhaps competing for a mate. A pair of Common Grackes harassed them as they flew to a nearby rooftop.
This Redtail screamed incessantly:
:
One of the grackles landed on top of a Redtail and appeared to be picking at a feather:
This Great Crested Flycatcher, hiding among the branches, was a nice find:
Here is a slide show of images I have captured at Hawk's Bluff Park, some before a playground was added and its dedication last year–