12/26/06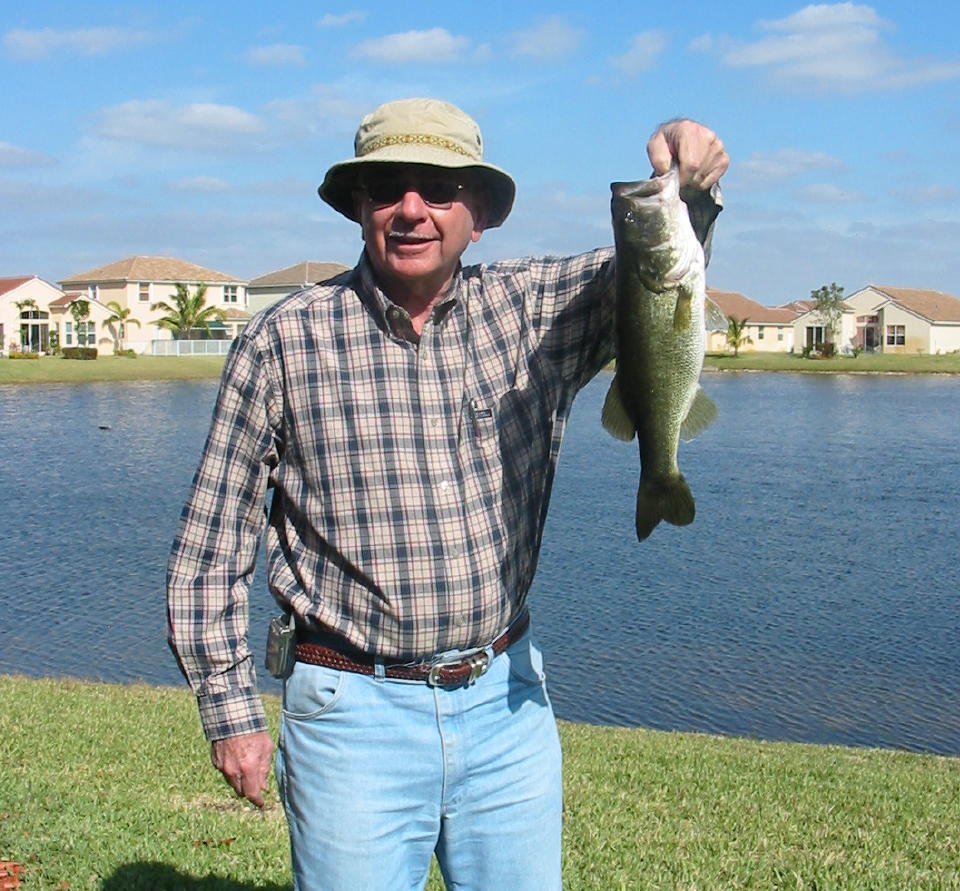 Our backyard lake has an abundance of Largemouth Bass. While I am not an avid fisherman, I enjoy wetting a line at times. Since the lake is fed by runoff from insecticide and pesticide-treated lawns, I would not think of eating anything that lived in it. So it is strictly catch and release. Top-water lures are the most fun, if conditions are right and the fish are taking them. Strikes can be dramatic, but the use of these lures requires considerable attention.
More often than not I fail to set the hook firmly, and my fish are able to eject the lure by jumping high and shaking furiously. Fishing and birding, while not mutually exclusive, are not entirely compatible pursuits. It is impossible to use binoculars and a fishing rod at the same time. Many birds are attracted to the lake, so they are a source of distraction. However, if I had not been fishing I would have missed some great views of birds.
Year round, Ospreys patrol the lake and sometimes dive with a wondrous splash, emerge, shake off excess water, and then if lucky, lumber upward with a catch. In winter, a Bald Eagle occasionally shows up out of nowhere to hijack the trophy. More common winter visitors include Caspian Terns, Ring-billed Gulls and one or two Belted Kingfishers.
While fishing the evening of July 12, 2005 I looked up and was startled to see a flock of huge pink birds with long gangly legs, knobby "knees" and the unmistakable hooked bill shape of flamingos. They flew with outstretched necks and their flight feathers were black. Flocks of up to nine birds flew over our lake three times between July 12 and 16.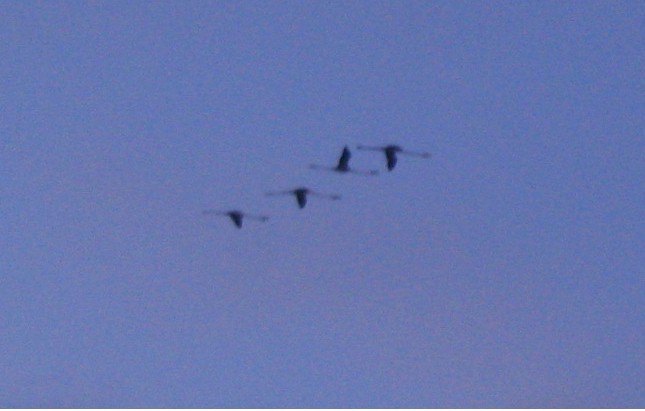 The evening flocks appeared to be flying away from a point nearly due north of our home. We put out an alert on the Internet, and decided to backtrack them the next evening, July 15. Mary Lou and I walked nearly a mile north on a roadway that was under construction just west of our home, but failed to see them. Then, the next day we got a call from Barry Heimlich, President of the Broward County Audubon Society. Barry and BCAS Board member Fred Griffin wanted to see the flamingos, so they came over after supper and we walked along the same roadway. We were discouraged when it started getting dark and none had shown up, and started back home. Suddenly four flamingos flew directly overhead (Barry took this blurry, but diagnostic photo).
View subsequent related post here "Origin of Flamingo Flock".
Leave a Reply