12/28/06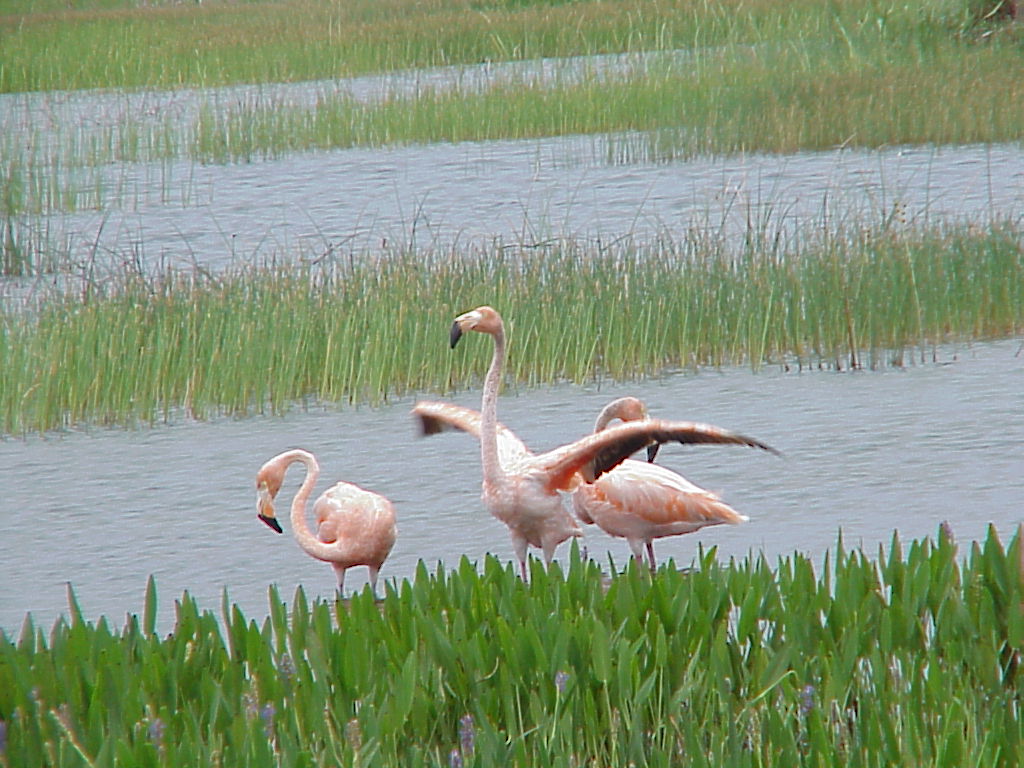 On the evening of July 16, 2005, after Barry Heimlich, Fred Griffin and I saw the four flamingos just north of our home, Mark Miller coincidentally provided very detailed observations of four Greater Flamingos he saw feeding in wetlands in SW Pembroke Pines, Florida. Our sighting occurred just a few blocks south of this location at just about the same time that Mark said they flushed because of a loud noise, so we presume these were the same birds. "Janine B." reported (on the Tropical Audubon Society Bird Board that she saw a flock a little earlier that day in the same general vicinity.
We then had to go away on a trip, but on the morning of July 30, Mary Lou and I visited these wetlands and saw no flamingos. (We did have a friendly Limpkin on the road). On the way out we talked to David Tringo, a nearby resident who said the flamingos had been showing up almost every day since around July 8th, when Hurricane Dennis passed by, at least up until the prior week. He said he photographed them (above photo) and that the flock numbered from "seven or eight up to about 20." He said they were bright pink, and they waded into the water up to their bellies and were feeding. Mark had noted similar behavior. Mark also confirmed that they were Greater Flamingos.
Hurricane Dennis was the first major hurricane of the season, the strongest Atlantic hurricane ever to form before August. After hitting Cuba twice as a Category 4 hurricane, Dennis made landfall July 10, 2005 on the Florida Panhandle as a Category 3 storm with wind speeds of up to 121 mph. As this image of the storm's track indicates, the eye traveled north, off the west coast of Florida, producing sustained southerly winds over the entire peninsula. Hurricane Dennis was the worst hurricane to strike Cuba in over 40 years, crossing the Zapata Peninsula of Cuba, where the Greater Flamingo is a common resident (See this recent Field Museum report on this bird-rich area). It carried up many southern specialties to the SE US: Sooty and Bridled Terns, Brown Noddies, even an Audubon's Shearwater that made it into Tennessee.
Flamingos once roamed extensively over South Florida, but in recent years the only reliable sightings were of a flock at the southern tip of the peninsula at Snake Bight. This flock's origins are uncertain. They may have flown in from one of the islands in the Caribbean and decided to stay. Interestingly, the Snake Bight flock was not seen at that location for about a year following Dennis.
It is possible that "our" flamingos were swept up by Hurricane Dennis from Snake Bight or even the Caribbean. Another possibility is that they wandered from the free-flying flock at Hialeah Race Track, which is southeast of our home. One or a few of these birds are sometimes seen flying in the immediate vicinity of the Track, but larger flocks have rarely been reported. Broward County had not recorded any flocks in over 10 years. Flamingos are not known to breed in the wild in Florida.
Leave a Reply