10/26/06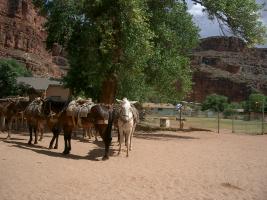 This is a continuation (3 of 4) of an adventure that begins in an earlier post.
Before we descended into the depths of the Grand Canyon on that moonless night, my experience riding horses had been limited to pony rides at carnivals. My Government horse Sam was very docile, and I trusted him despite not being able to see anything around us, as we followed the two Indian girls who did not share the reluctance of their elders about guiding us on the trail in utter darkness.
At first the trail was easy, but then we started down a narrow canyon, past Navajo and Supai Falls towards the campground below Havasu Falls. It was unbelievably dark. At one point as we were traversing a narrow ledge along the canyon wall, my horse stumbled a bit. That was scary enough, but he dislodged a rock that tumbled down the cliff and landed, after an ominous delay, with a splash in the river below. Yet I felt that Sam knew the trail better than any of the humans and I felt confident.
Finally we reached level ground, a broad plateau just above the roaring Havasu Falls. Here there was not much of a trail and our horses spread out a bit with me following the lead Indian girl who was slightly to my right. I could see water to my left. The stars reflected in it. It looked like a lake far below us. Sam kept walking toward what I thought was the very edge of a cliff, each step taking him ever closer as my adrenaline started to peak. Then he stepped into eternity, or so I thought. A gentle splash– actually it was just a puddle reflecting the stars!
We descended the steep trail that brought us to the bottom of the falls, and there encountered a chaotic scene. There were kids and young adults puking and groaning all over the place. By now it was about 2:00 AM. Just our presence had a calming effect on the patients, and we quickly obtained and recorded information from each, starting with the sickest. As it turned out, there were three groups of campers, 62 people in all, of whom 26 fell ill. There were 17 Explorer Scouts in this first group, who camped farthest below the falls, then about 30 yards upstream another seven member private group from California (we called them the "hippies"), and 38 younger Boy Scouts whose camp was set up near the base of the falls, but who were nowhere to be seen when we arrived. Eventually, a total of 26 of the 69 people at risk were to fall ill, including two of seven volunteers.

Final Installment of Grand Canyon Adventure: Bug Juice