10/25/06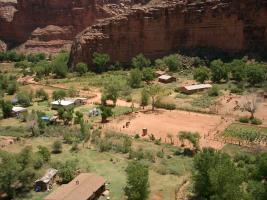 This is the second of four installments of an adventure that begins in the previous post.
My tour of duty on the floor of Supai Canyon was scheduled to be brief. Following my descent on a mule to the floor of Supai Canyon, I was to cover a general medical clinic for the physician who normally visited once a week. After an overnight stay, I would simply climb back on the mule and return to Phoenix.
The date was Tuesday, June 24, 1969. Interestingly, there was a half time Forest Ranger assigned to Supai Village, the heart of the Havasupai Reservation on the floor of the western recesses of Grand Canyon. I believe his name was Mr. Greenfield. He was a licensed midwife, so he not only delivered most of the uncomplicated births, but also served as the first line source of all medical care. The clinic was uneventful except that there were many patients, and it continued into the early evening. That night, I really enjoyed climbing into my bunk. The constant thunking of a big generator echoed off the narrow canyon walls, but I paid little attention.
Just before midnight the Forest Ranger aroused me from a sound sleep. A Boy Scout leader had arrived, quite out of breath, to report that a large number of campers had suddenly fallen ill in a campground located about two miles downstream. He said many had vomiting and diarrhea and that some were "bleeding." He was in the National Guard, so he also asked that we send for a Guard helicopter right away. This was not possible, as the range of our walkie-talkie was very limited, and the land line terminated at the corrals on Hualapai Hilltop, abandoned by that time of night, so we saddled up and set out to the scene of the illness. On a pack horse, we brought along IV (intravenous) setups with fluids, water bottles and a basic first aid kit. By now the nine day old moon had set, and the Arizona stars shone brilliantly.
The Indian who normally would have guided us refused to go during the night, something that made me feel a bit uncomfortable. However, there was a pre-medical student visiting from Loma Linda (John Ward), along with two other college students (Carolyn and Debbie Burkes). They and two teen-aged Indian girls (who agreed to guide us) accompanied Henry and me as we set out in the pitch darkness. I rode Sam, the "Government horse."
Continues as: Horsemanship in the Pitch Dark

Leave a Reply