07/30/08
View from Sandia Crest House, looking south to South Sandia Peak and the Manzano Mountains beyond (click for larger view):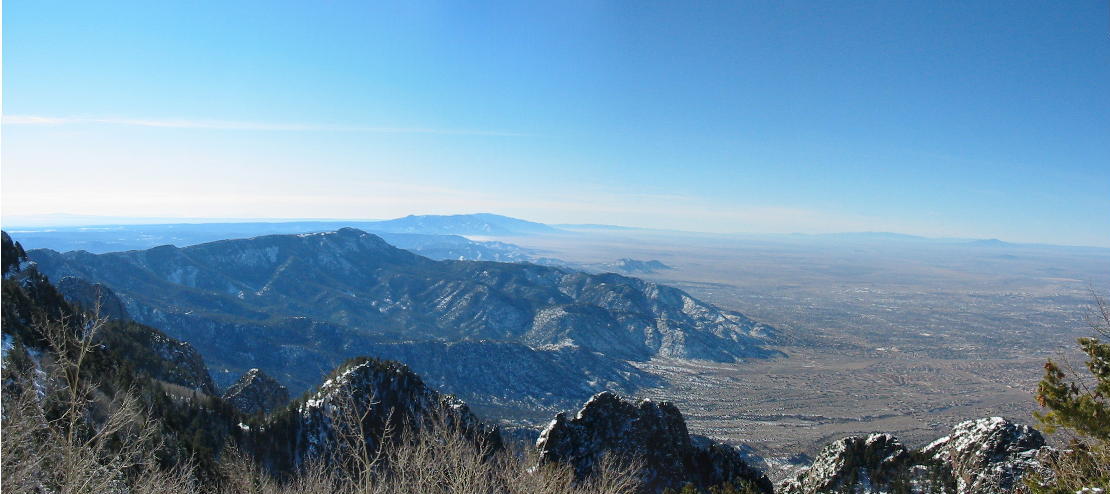 The La Luz Trail Run is a 9 mile trail run that starts near the intersection of Tramway Road and Forest Service road 333, the road to the Juan Tabo Picnic Grounds, in the far northeast heights of Albuquerque, NM. The race consists of 1.8 miles of paved road and 7.2 miles of dirt single track trail with a 12% grade.

The race finishes
at the Sandia Crest (10,678′) near the gift shop located by the radio and TV towers on the crest. There is a strict 400 runner limit imposed on the race by the U.S. Forest Service. In fall issue of 2001 Trail Runner Magazine, La Luz was selected as one of the "12 Most Grueling Trail Races in North America".

Race Director: Rodger Sack, (505) 797-0791
---
Frequent travel and lots of desk time took its toll on my constitution during my professional career. Mary Lou's life centered around the increasing needs of our severly handicapped son, Glen, who remained with us at home for all his 24 years. In 1992, he passed away at our home in Dallas.
After we decided to retire from Dallas to the mountains of New Mexico, I resolved to improve my physical conditioning in preparation for a more active life at 7000 feet elevation. Mary Lou was very diligent in exercising at home, and whenever possible we took brisk morning walks. I lost a few more pounds by cutting the carbs. We also planned to take a much greater part in the life of our community.
Once settled into our new home, we both became very active in church ministries. I organized our new church's first finance committee and served two terms as its chair. We hosted study groups and were responsible for scheduling several ongoing activities. I served on the board of our Homeowner's Association and two terms as president. As soon as a class opened up, I took training as a docent at the Rio Grande Nature Center State Park in Albuquerque, and led walks for schoolchildren once a week. With the volunteer coordinator, we set up the first Saturday morning bird walks at RGNC, not sure whether anyone else would volunteer to lead them. We were delighted that the public responded positively, and many experienced birders offered to lead, and we were able to expand them to Sunday mornings. We then trained as volunteers with the US Forest Service and I served as a Wilderness Information Specialist. One of our "duties" was to walk the trails, on the lookout for fires and any problems such as downed trees, graffiti and washouts. It also led to our interest in the rosy-finches and creation of the feeding project that continues to this day.
I also joined the New Mexico Mountain Club, a group of senior citizen hikers. I figured it would be a piece of cake, as I had retired fairly young, and many members were 10 and 20 years older than me. I quickly found out otherwise, as these men and women were true "hikers." Until then, "hiking" to me meant "bird hike," which is merely a means to an end. For the Mountain Club, the hike was the end in itself. Even after I learned to adapt to their habits, I usually had fallen to the rear of the line, usually not out of exhausion, but because I could not resist slowing down or even stopping to enjoy a breathtaking view, or (of course) that Grace's Warbler in a Ponderosa, or a Northern Goshawk flyover. The price I paid for tarrying was to catch up with the group just as they were finishing their 10 minute rest and water break!
I learned that hiking downhill was harder on my knees than up, but the regular weekly hikes allowed me to experience some wonderful natural areas in North Central New Mexico. One memorable hike was right up to the top of Sandia Crest from the northeast corner of Albuquerque, by way of La Luz Trail. This 7.2 mile dirt track starts at 7,000 feet altitude and zig-zags its way up to the 10,678 foot summit. The only ways back down would be to change direction and walk, or walk another mile to the south on the South Crest Trail to Sandia Peak and take the tram down. In the event that some of the group would choose the latter method, we parked a couple of cars at the bottom of the tram before we drove the rest to the starting point in the Juan Tabo Picnic Area.
We walked up La Luz on a delightful late spring morning. Happily, by then I had the benefit of having beefed up my quads on several earlier hikes with the group. There were about ten of us on the climb, about equally divided between men and women. It took us about four hours to the Crest, which averages less than two miles an hour, but the grade is 12% to that point. It was actually not as difficult as I had feared, but I thought about that last downhill hike. Our leader, who was a man in his early 80s, then asked who wanted to rest a while and then turn around and walk back. One woman, in her seventies, and all the other men said they did. I said, "I think I'll take the tram with the other ladies." We walked another half hour to reach the restaurant at the top of the Sandia Peak tram, had lunch, and then rode down. With great foresight, I had left my car at the base parking lot!
Last year, many runners finished the nine mile La Luz Trail Run with times under 1 1/2 hours. The average age of participants was 42 (age range 14-80) and the average time was 2:24. This annual event will be held this weekend. Spectators are welcome!