04/17/08
Looking due east from our patio, we see that the waves are now coming in diagonally from the left. The wind is shifting eastward.


The lake is most interesting when the wind is still, when it is easy to see the bass splash to capture insects on the surface, or groups of small fish jump out of the water in unison, porpoise-like, to escape an underwater predator. The lake reveals quite a bit about the weather: wind shadows, wave intensity and direction. It signals sudden downbursts from thunderstorms and shifting winds.
Watching the lake last evening, after two days of steady northwest winds, we saw the wind shift to the northeast. High pressure is moving down along the east coast of Florida, and with it a gradual shift of wind direction to perhaps southerlies by tomorrow night. The waves on the lake signaled that waves of warblers were unlikely, but I checked the radar before turning in.
Despite the continued fairly strong NE winds, and no movement north from Cuba, Key West radar showed a burst of birds at 8:31 PM, slipping up the west coast of Florida towards Naples and along the west coast of Florida. This morning, BADBIRDZ confirmed that there had been little or no action across the Florida Straits, though there had been movement inland to the north, with, showing migrants exiting the Sunshine State.
A good sized flock is exiting from the SW tip of the Florida Peninsula, north of Flamingo, near Whitewater Bay and Oyster Bay in ENP. They are speeding along across the wind, at about 40 MPH.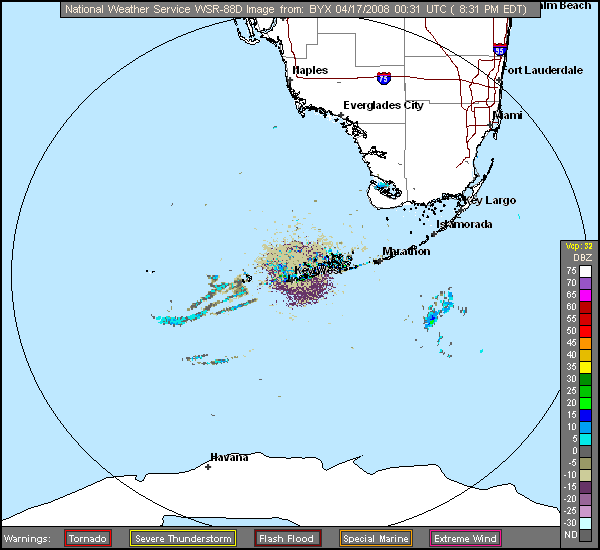 Then, a little after 10:00 PM, this loop from Miami radar shows the same flock making progress up the coast, and a large number of birds exiting western Broward County and heading northwest towards Fort Myers.