12/14/06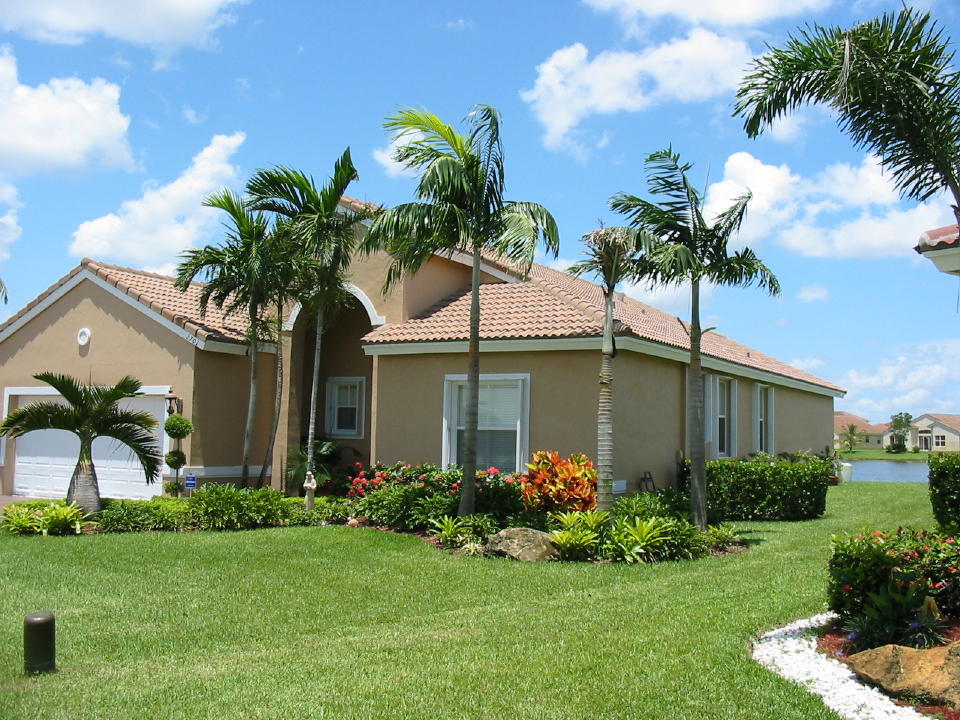 We settled into a subdivision that had been gouged out of the Everglades only two years previously. Following the established protocol, the developer had bulldozed away all the trees and shrubs, then excavated a lake that served as the source of the sand and coral rock upon which the roads and homes were constructed. Live Oaks were planted along the streets, exotic palms and shrubs comprised the foundation plantings, and each back yard had its mandatory native tree surrounded by a Cocoplum hedge. All other surfaces were blanketed with St. Augustine turf.
The front of our Florida home faces west, just as in New Mexico. However, our main living area and most of our windows face east, overlooking the 10 acre lake. Our lot bulges out into the lake, providing us with 150 feet of shoreline and water views from three sides of our home. Because the public drainage district controls a 20-foot easement along the shore of the lake, there are restrictions on landscaping at the water's edge. As a result, manicured lawns envelope the entire lake. No moss-draped cypress or other native trees grace the water's edge, and no arrowheads or rushes or water lilies soften the shallows.
Our eastern exposure to the lake shore carries some advantages. We awake to many beautiful sunrises as the sun hides behind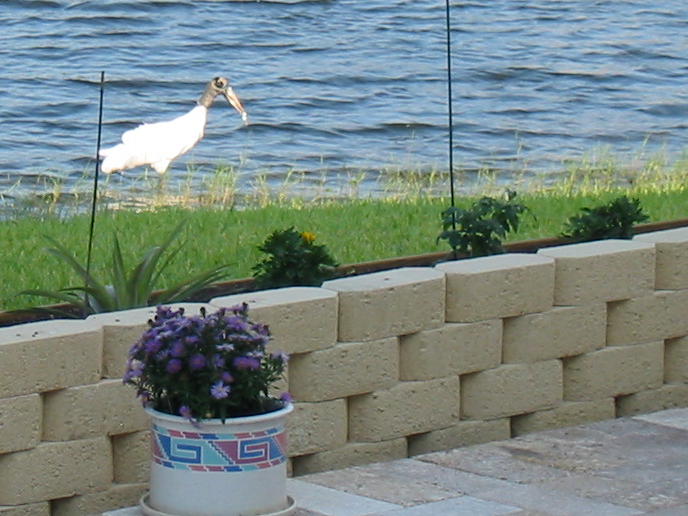 the clouds that so often line up along the Atlantic coastline. Prevailing easterly breezes freshen the air, even on the hottest days. We welcome the cool afternoon shade. Although we are visited by Red-winged Blackbirds, Monk Parakeets, Common Moorhens, Anhingas, Wood Storks (pictured) and many heron and egret species, we hold no hope of ever finding a lakeside nest. Yet our splendid view affords endless opportunities to observe the birdlife. Here is a scrolling panoramic view from our back patio.
The lake is productive of aquatic life, and each autumn around Thanksgiving there is a crop of small silvery fish that attracts a huge assembly of birds. We have seen as many as 10 Great Blue Herons, over 30 Snowy Egrets, 20 Great Egrets, 5 Wood Storks, numerous White Ibis, and an assembly of Little Blue, Tricolored and Green Herons at one time, all feasting on the fingerlings. Overhead, Osprey, Ring-billed Gulls, Turkey and Black Vultures, and an occasional Bald Eagle, are on the lookout for morsels. Double-crested Cormorants and Anhingas exploit the fishery from beneath the surface.
Last Thanksgiving, during the feeding frenzy, we observed as a Great Blue Heron waded into deep water and then actually swam like a swan as it continued to hunt for dinner. Egrets mimicked the gulls by flying low over the water's surface and snapping up fish on the wing.
Leave a Reply