12/13/06
Filed under:
General
,
Birding & Outdoors
,
NM & SW US
Posted by:
Ken
@ 9:08 pm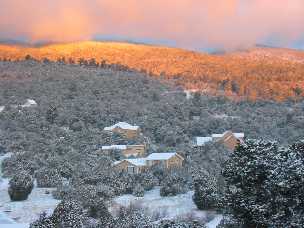 Our home in New Mexico had a wonderful view of the east face of the Sandia Mountains. In the morning, as shown in this scrolling panorama, we watched from the huge windows in our front-facing Great Room as the sunlight slowly crept downward from the highest peaks. As sunrise progressed, the wavelengths of light changed unpredictably. Sometimes the top of the mountain was bathed in gold or crimson. In winter, we watched snow squalls dance after each other across a majestic backdrop of evergreens and limestone outcroppings.
Days were short, as our home was wedged in between two ridges that blocked the sun at both ends of the day. Night fell indeed, almost with a thud as we went from light to dark when the sun dipped under our mountaintop.
We had outgrown our tri-level house. Creaking joints and aching backs made snow removal less pleasurable. Grocery shopping required us to drive anywhere from five to 15 miles. We decided to relocate to a smaller home, either in Southwestern Arizona or in Florida, disparate but balmier destinations.
Staring at a distant point relaxes the eyes. It also confers an overall sense of relaxation. One caveat: our new home had to provide us with a vista, be it mountain or cityscape. We did not want to be trapped in two dimensions. Of course, we also wanted to be within walking distance of shops and continue to enjoy the security of a gated community as we had in New Mexico.
We found our new home on a small lake in South Florida. A supermarket was within easy walking distance. Family was nearby, for a few months, until our daughter and her family relocated to Illinois upon her husband's promotion.
Leave a Reply