11/28/10
A bad cold has limited my time afield the past week. Feeling the need to attain Bird Chaser's "Recommended Daily Allowance" (RDA) of 20 bird species, I ventured out on a 15 minute walk to the canal that borders our subdivision, and also serves as the eastern edge of the Broward Water Conservation Area. The WCA is a buffer area between the developed west edge of Broward County and the Everglades. I call the southeastern corner of the WCA the "West Miramar Environmentally Sensitive Land (ESL)":
As I walked in on the gravel road, House Wrens and Common Yellowthroats scolded from the weeds on either side. Boat-tailed and Common Grackles flew overhead, Blue Jays called to each other in the dooryards, and doves cooed from rooftops: White-winged, Mourning and Eurasian Collard-Doves. Palm and Yellow-rumped warblers flitted in the Live Oaks and hedges. Ten species already. For an hour and a half, I remained within a small area of disturbed grassland and woodland along the canal, allowing the birds to come to me.

A male Northern Flicker sits atop the broken-off trunk of a dead Royal Palm:




Suddenly, a male American Kestrel displaces the flicker:




The kestrel flies to the top shoot of a distant live palm– he appears to be choking to death!




After several seconds of gagging, he dislodges a pellet, comprised of indigestible prey remains: feathers, hair, nails, insect exoskeletons and some bones:




There is no need to wander far and wide to enjoy little pockets of wild space. Resident White-eyed Vireos have now been joined by a larger number of migrant White-eyes from points north:


A Loggerhead Shrike is unusually tolerant of my close approach:
A flock of Cattle Egrets is joined by an immature White Ibis (dark wings) and a Snowy Egret (yellow feet):
A Male Belted Kingfisher stands watch over the canal next to our property:
He flies high over the water, hovers and then makes a steep dive:




The kingfisher catches a good-sized fish, takes it to a perch, subdues it by striking it against the branch several times, flips it and swallows it headfirst (click on the image to see sequence of photos):




On the opposite shore of the canal, a Great Blue Heron imitates a ballet dancer as it makes a graceful landing:


How can I pass up another Northern Cardinal photo-op, especially since it is the twentieth species for the day?:


Having attained my "RDA", I looked up and almost ignored what I first thought was a female cardinal. On closer inspection the large bill belongs to a migrating female Summer Tanager:


In an adjacent exotic Melaleuca tree, a strongly marked male Prairie Warbler eyes me– 22 species!:


Suddenly two Northern Harriers appeared in the distance over the wetlands. Characteristically, they reached the near margin and turned around. Anticipating that they might continue to move back and forth, I positioned myself at a clear place on the levee, to get a better look should they reappear. Soon they came back into view. One was a large brown female, but the other was a smaller adult male. I have found males to be relatively scarce, and I have never obtained a decent photo of one. They were about 100 yards away when they turned and flew from my left to right side.
The male Northern Harrier is beautifully patterned in gray, black and white:


As my 23rd species moves away, he displays his signature white rump:




Turning my attention to the butterflies, I capture my first-ever image of a Giant Swallowtail:
Another first– a Long-tailed Skipper, with an iridescent blue-green body:


This
White Peacock rests in the cool shade. It is a particularly fine
specimen, as most have wings that are tattered by their frequent
territorial skirmishes::
A Zebra Heliconian, State Butterfly of Florida:


Nearby, a male Julia Heliconian:




The Scarlet Skimmer (Crocothemis servilia) is a dragonfly species native to Asia which was introduced to southern Florida. It was first discovered in the U.S. near Miami, Florida, in 1975 and since has become common across most of the southern half of the Florida peninsula:


Proud Grandfather talk–
Before I leave the subject of butterflies, I want to share a few photos our daughter just sent us from Illinois. While we were back there about 6 weeks ago, our 6 year old granddaughter found a Black Swallowtail caterpillar on the sidewalk in front of their home. The budding naturalist proudly brought it to me and announced she was going to save it and watch it turn into a butterfly.
She did this the first time when only three years old. Here is a 2007 photo of the girls with an emerging Black Swallowtail. Read the full story : Goodbye, Butterfly)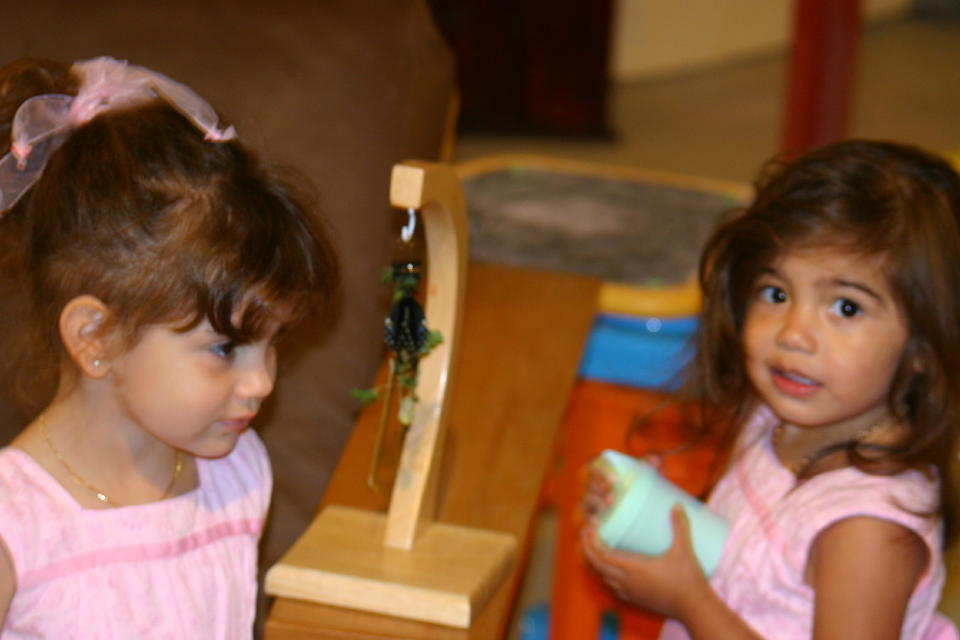 She already knew that this species eats parsley and other plants in the carrot family, so she found some Queen Anne's lace stalks and put them into a plastic storage container with the caterpillar. In only about three days, the caterpillar lost its skin and turned into a chrysalis. She asked if I knew how long it would be before the butterfly emerged. I told her that this late in the season they normally would not come out until the next spring, but if kept inside the house it could be sooner.
This past week, the butterfly emerged as she and her 5 year old sister watched: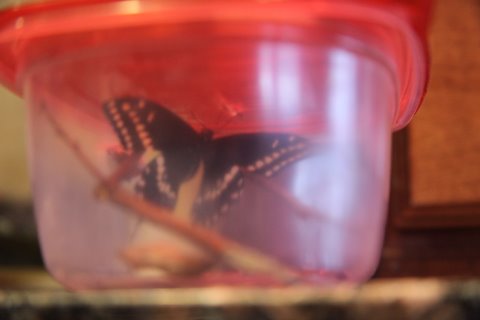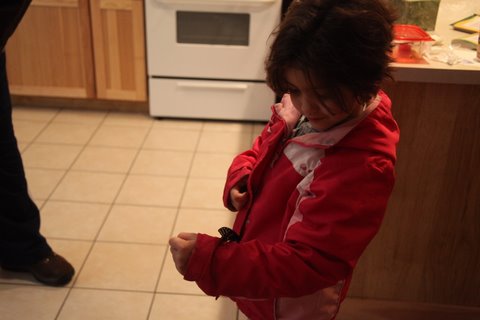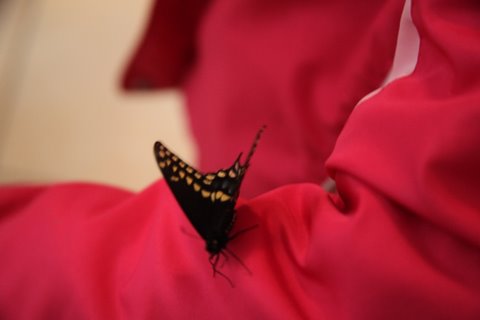 She fed it sugar water, took it to school where she demonstrated it in
both of their classrooms, and allowed it to fly free inside the house.
She wanted to turn it loose outdoors, as some can survive the winter if they can find shelter. Since they went "south" (only about 80 miles) to Starved Rock this
past weekend, she brought it there and released it. It flew a short distance and then did not move much because of the cold. When she returned
later, she found it on the ground, lifeless. She was very sanguine about
this, saying she wants to try this again next spring.
On Thanksgiving Day, the girls visited the Shedd Aquarium in Chicago, where they participated in a children's program: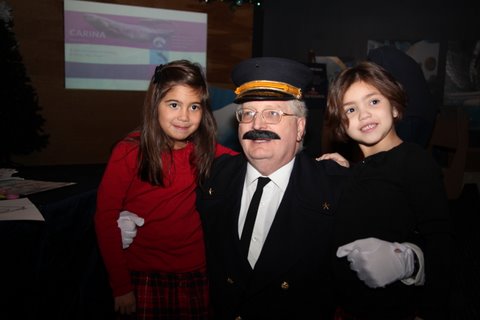 Also see:

Birders Start Young

Early Birder


Leave a Reply