10/23/06
Filed under:
General
,
Birding & Outdoors
Posted by:
Ken
@ 7:10 pm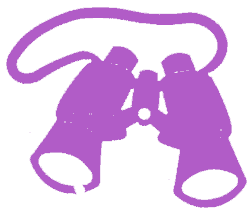 As a kid, I often thought how I would like to marry a girl who loved birds. As the hormones raged and the demands of college and medical school intervened, my birding activities dropped off sharply. I had turned into a covert, "underground birder." My criteria for an eligible wife also changed. Of course, my Mom knew. She almost gave away my secret when Mary Lou and I left on our honeymoon. "Wait until you see what Ken has in his suitcase," she said. Of course, Mary Lou had no clue and felt quite anxious that it might be chains and a whip! She was most relieved to find binoculars and a bird book!
Ironically, Mary Lou was yet to become an avid birder, but only after raising four children. Our youngest child Glen, born in 1967, had severe encephalopathy, a reaction to a measles vaccination at 18 months of age. He lost the ability to walk and talk, and became totally dependent. Mary Lou stayed home and cared for Glen his entire life, until he died at 24 years of age. I retired soon after his death, and we moved into the mountains of New Mexico. Mary Lou's widowed mother had become increasingly dependent, and she lived with us for several years. Glen died on her 89th birthday (she was born the same day as Bob Hope), and her condition deteriorated. After we moved to New Mexico she finally had to be admitted to a nursing home in Albuquerque, where she died, in 1996 at the age of 94.
During the almost 30 years devoted to the care of our son and her mother, Mary Lou was pretty much homebound. Only one of us would be able to attend family events such as graduations, weddings and funerals. Released from the burden of caregiver, Mary Lou was finally able to travel. We discovered Elderhostel, and so far have attended about 20 programs, many of them birding adventures. Here is link to our Costa Rica/Panama Elderhostel cruise.
Leave a Reply