10/20/06
Filed under:
General
,
Rutherford & NJ
Posted by:
Ken
@ 12:32 pm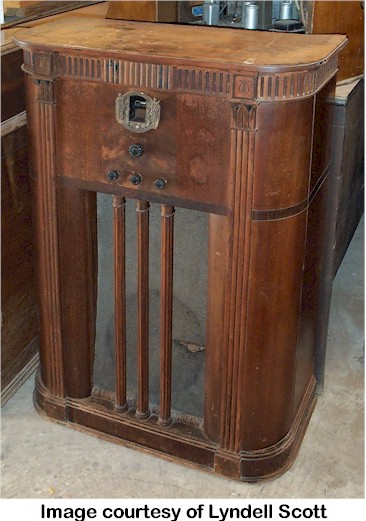 We had a heavy wooden floor model Philco AM radio that probably dated back to my parents' wedding in 1934. It had separate on/off, tuning, volume and tone dials, a tuning eye, and the station frequencies were printed on a cylinder that displayed through a small square window. Tubes frequently burned out and had to be replaced. I remember wishing for the day I would be tall enough to look on top of its cabinet. For a few years it was the only radio in the house, to be supplemented by a white plaskon (I don't think we called anything "plastic" at that time) Emerson table top for the kitchen. The Emerson sported a radial dial.
The big radio was a wonderful gathering place. Homework had to first be completed. Then we would thrill to the adventures of Lamont Cranston and Margo Lane in "The Shadow" ("Who knows what evil lurks in the hearts of men? The Shadow knows!"),
Memories of images from these radio programs seem more vivid than many I've witnessed visually. The introduction to the Lone Ranger is burned into my brain: "A fiery horse with the speed of light, a cloud of dust and a hearty "Hi Ho Silver!" The Lone Ranger! 'Hi Ho Silver, away!' With his faithful Indian companion Tonto, the daring and resourceful masked rider of the plains led the fight for law and order in the early western United States. Nowhere in the pages of history can one find a greater champion of
justice! Return with us now to those thrilling days of yesteryear. From out of the past come the thundering hoof-beats of the great horse Silver. The Lone Ranger rides again!"
"Jack Armstrong, Jack Armstrong, Jack Armstrong– the ALL AMERICAN BOY!" In the morning, Don McNeil's Breakfast Club livened the house with march music every quarter hour. New York Mayor Fiorello LaGuardia read the Sunday funnies during and for some time after a 1945 newspaper strike

And the commercials! Barney's repeated this mantra: "…at 7th Avenue and 17th Street, the only store of its kind in New York!" On almost every clear weekend morning, I.J.Fox the furrier supplemented its commercials with sky writing, first using a single airplane (the "I" would sometimes dissipate before the "X" was finished), then two, and even later a squadron of six or seven "sky-typers" who flew wing-to-wing and quickly set out a digital smoke banner.

Leave a Reply