03/04/08

Tres Pistolas (Three Gun Spring) Canyon, looking north. Click on the above image to see a scrolling panoramic view. The Hawk Watch lookout is to the far right (east).
In just a few weeks Scott's Orioles will return to this location, one of the best in the Albuquerque area for this species. My digiscoped photo of a male bringing food to its young is not very hi-res. The nest is only a couple of feet above ground in a scrubby Gray Oak. Vegetation reflects the arid nature of the canyon floor.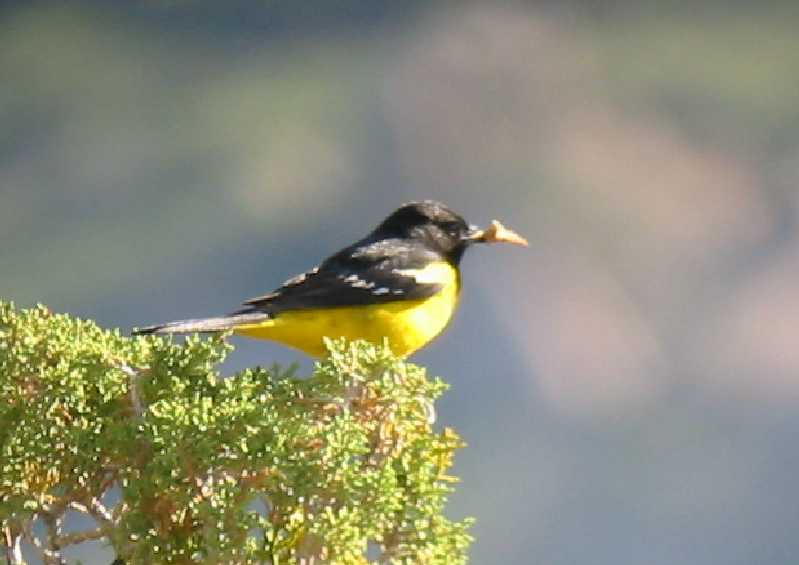 Hawk Watch International has been counting raptors in the Sandia Mountains every spring since 1985. Their banding project commenced in 1990. Up to 18 raptor species have been observed over the years, with spring counts in the range of 4,000 to 6,500 individuals. Their spring count usually begins in late February and finishes up in early May.
The Sandia Mountain Spring Hawkwatch is now underway. A cadre of dedicated volunteers, members of the Friends of Sandia Mountains, shoulder a great deal of the work of keeping the National Forest trails clear and safe. The big pine die-off has left many snags that now are toppling over with every windstorm. This past weekend, Don Carnicum, FOSM Coordinator of Adopt-A-Trail, reported on their project of repairing the first mile of the trail up to the Hawkwatch area, from the City of Albuquerque/Bernilillo County Tres Pistolas Open Space.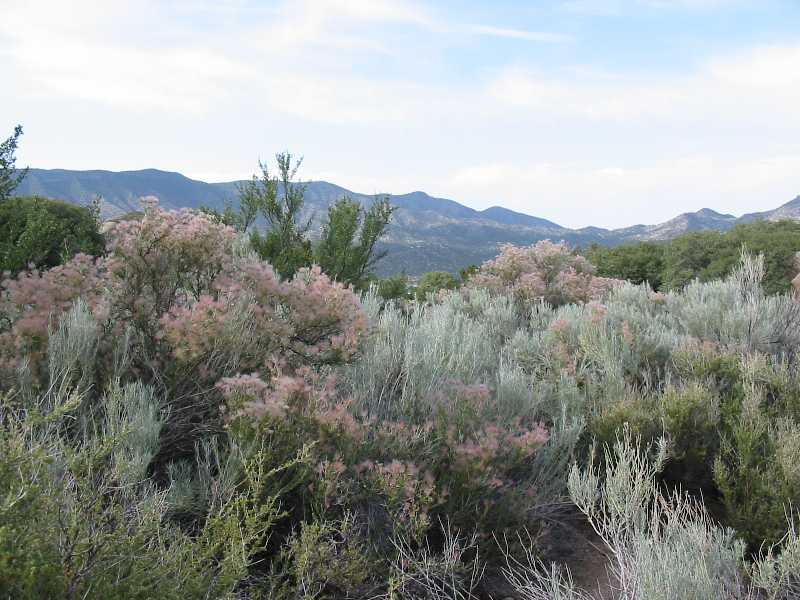 Don said: "Twenty volunteers participated in the efforts, representing a variety of organizations including NM Volunteers for the Outdoors, Hawkwatch International, Friends of the Sandia Mountains, Albuquerque Hiking and Outdoor Meet Up Group, Sandia Ranger District's new Wilderness and Trails Program Manager, Lisa Jones, and SRD Volunteers convened at the Hawkwatch Trail for trail maintenance instruction and hands-on experience. This outing completed the field portion of a Trail Maintenance Course presented by Bill Velasquez from NMVFO at REI Wednesday night.

"Working in four groups, dozens of rock water bars and drain dips were constructed throughout the first mile of trail. Steps and check dams were repaired and built along the same stretch of trail. The Hawkwatch personnel were starting their raptor count today, so were happy to see all of this work being done on their trail.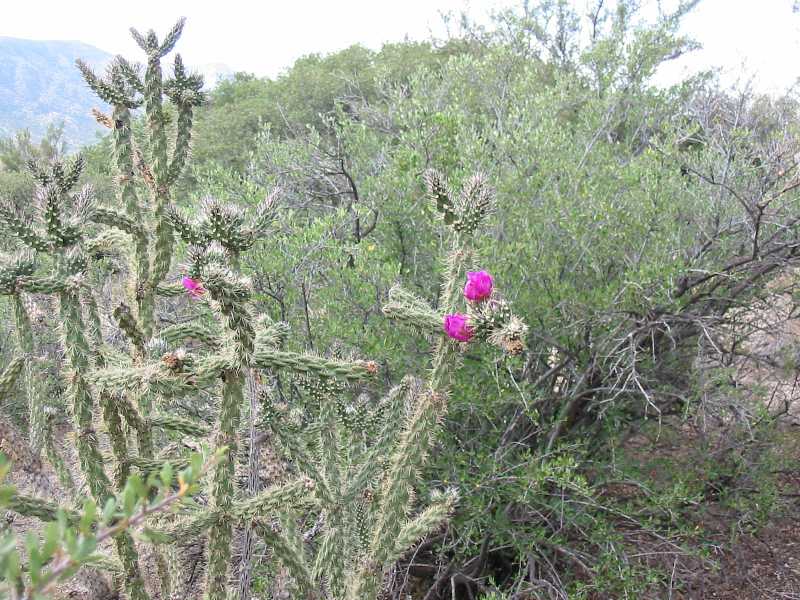 "Hawkwatch's Bobbie Posey provided fabulous cookies and other goodies and Bill had plenty of cold drinks. Can't ask for much more than that to complete a great day on the mountain. Thanks to everybody for taking the time on a beautiful Saturday to help make all of this happen."

More information about Tres Pistolas, including photos and directions to the site, may be found at this link

Also, visit Hawk Watch International's Sandia Mountains Raptor Migration Project site
Leave a Reply