02/21/08

Update on the Rosy-Finches of Sandia Crest, New Mexico. The flag is waving–
Rosy-Finches are now visiting the feeders at Sandia Crest House.
BULLETIN: Matthew Medler, Science Coordinator of the Boreal Songbird Initiative, has informed me that National Geographic's "Wild Chronicles' program will be featuring a piece on Boreal Forest conservation efforts starting tonight. It will include an interview with Jeff Wells about the massive migration of birds out of the Boreal each fall, as well as some stunning video footage.

This show will air on different dates in different cities across the country. To see when it is airing near you, visit the Wild Chronicles web site: http://www.nationalgeographic.com/donate/wildchronicles/

Earlier, I noted that Gil Bachmann, General Manager of the popular Kandahar Condominiums in Taos Ski Valley, is also a birder, though quite a busy one during snow and ski season. He sent me several very nice photos that capture the thrill of seeing hundreds of rosy-finches crowd into his feeders. Gil extends a kind invitation to any hardy birders that may wish to view the birds privately, but asks that you call him to give advance notice.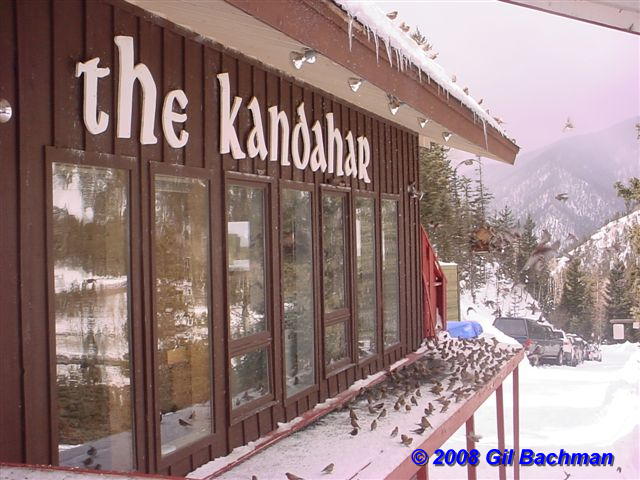 Gil's report:

"Removing all the snow from the roofs and roadways and all the other issues relating to taking care of our guests has kept us all very busy. No complaints, though. Just heard that this year's snow base is the best in 30 years!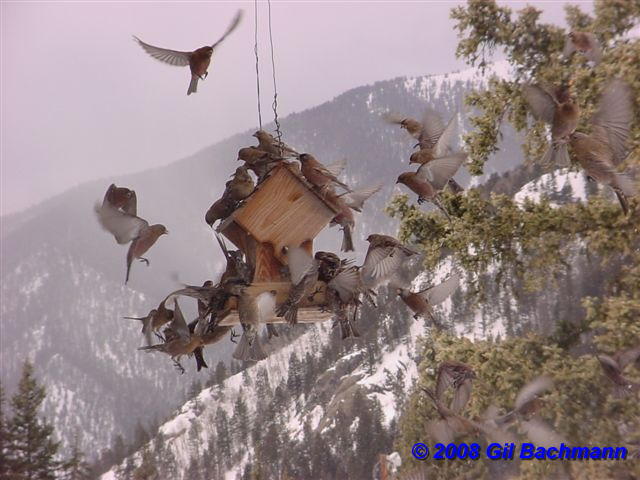 "The flock of rosy finches seems to increase almost daily. The flock has increased to at least 400, maybe up to 500. "Thick as hair on a dog's back" as we used to say in Missouri, when they descend on the feeders and the flower boxes full of sunflower seeds, and the deck floor around the feeders. We have 4 of the flower box feeders and two hanging feeders. At a given moment, they will all be filled with birds, with a greater number on the deck floor around the feeders, and another large number on the roof above the feeders.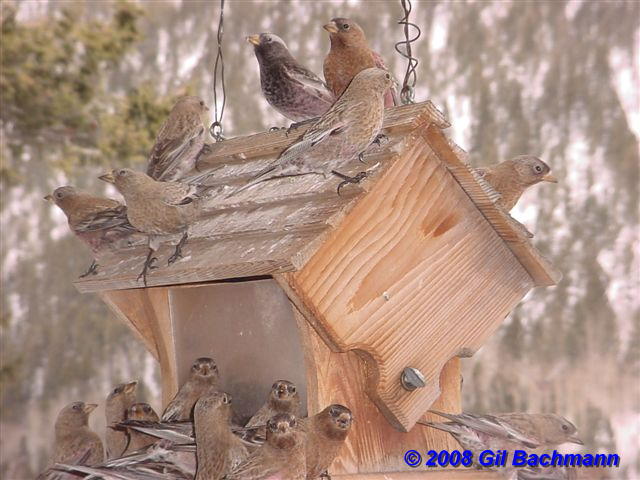 "I am sending several pictures I've taken, to give an idea of the flurry of activity here… I will try to keep you informed of any changes in the rosy finch numbers as the season progresses. And hopefully I will soon have more time to devote to counting the distribution of the 3 races.

"…We also extend the invitation to anyone who cares to observe the Rosy Finches or take pictures.Individuals are welcome at any time. If a group were to want to spend several hours and even bring a lunch, they are welcome also. We would appreciate advance notice if a group came.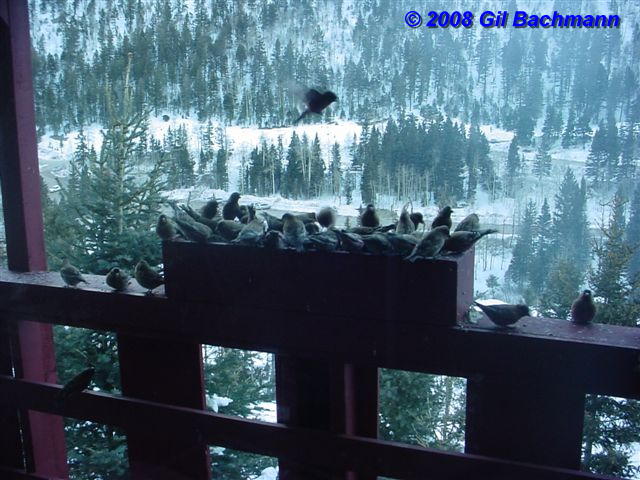 "While viewing from our office windows is often very good, the best viewing can be done from the Manager's condo. There, one can sit just a few inches from the feeding birds. With advance notice, I would be willing to welcome a group of up to 12 people in the condo. There would be no charge for this.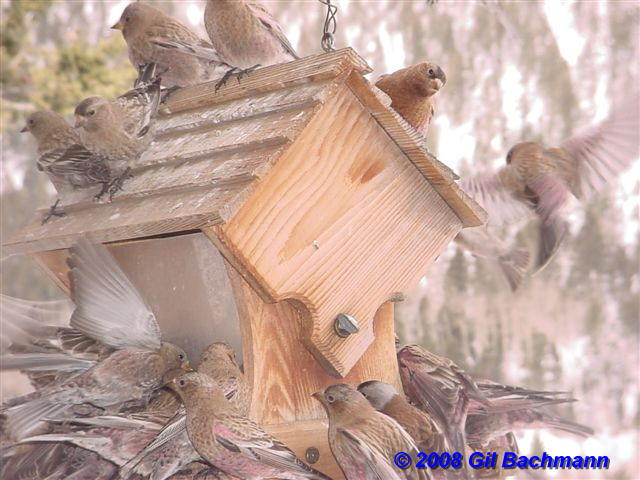 "If anyone would wish to stay overnight here at the Kandahar, that can also be arranged. Our weekends are all booked at this point, but there are many weekdays where we could accomodate a one or two night stay. Condos are two bedroom, two bathroom units, that rent for $350 a night through March 11; $400 a night from March 12 through March 26; and $200 a night from March 27 through April 2. Arrangements for these can be made by calling our office at 575-776-2226. The finches are a daily pleasure for us here and the Kandahar!"

Although Brown-capped Rosy-Finches appear to overwhelm the Kandahar feeders, birders will recognize all three species of rosy-finches in the above photos. There is at least one adult Black, and I see a single White-crowned specimen, of the Coastal (Hepburn's) race.
Leave a Reply